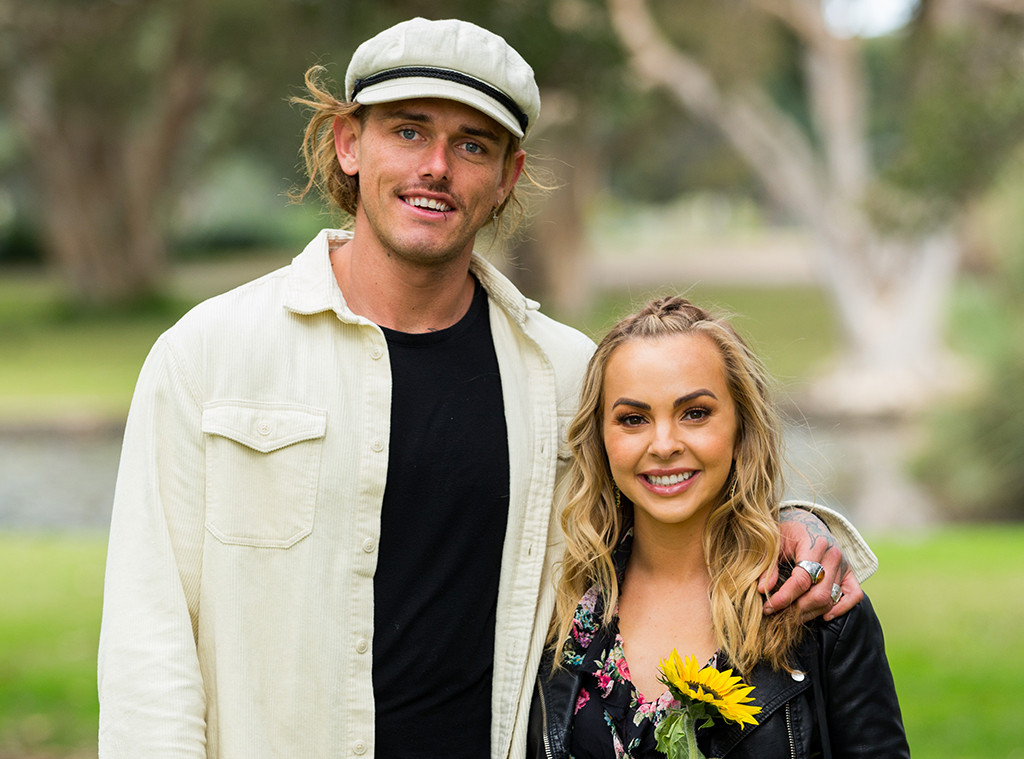 Ten
Will Timm Hanley be the last man standing on The Bachelorette Australia?
According to eliminated contestant Jackson Garlick, the fireproofer has the best shot at winning Angie Kent's heart.
"I think Carlin [Sterritt] is definitely a frontrunner and Ryan [Anderson] is also, but if I had to bet my house on it, I'd bet Timm," the 25-year-old told E! News. "Timm lights up the room when he walks into it, and he doesn't do it necessarily intentionally sometimes. He can make anyone laugh, and most importantly, make Angie belly laugh.
"One thing that I noticed was that when she looked at Timm, she looked at him differently to how she looked at any other bloke in the room. I think that goes a long way."
Jackson is not the only bachelor that thinks Timm will receive the final rose.
"I've seen their connection," BMX stunt rider Matt Whyatt told E! News. "He makes her laugh, he made all of us laugh, he's an absolute legend and he's honest."
Even though Jamie Doran has his money on Ryan, he said he was "rooting for my boy Timm."
E! News also asked Jackson to weigh in on controversial contestant Carlin, who was grilled by Angie about his acting ambitions during her Sydney hometown visit. Jackson defended the fitness trainer's intentions on the show.
"I always got along with Carlin. Just because you've been in a couple of TV ads and a feature film doesn't mean you're an Oscar-winning actor that's on the Bachelorette to fool everyone into loving you. An aspiring actor deserves the right to find love," he said.
"I lived with the bloke for seven weeks. I'm a pretty good judge of character. If anyone wants to try and say he's disingenuous to me, I'll back him to the hills."
But were Carlin's tears on Thursday night's episode actually real?
"He looked like he was pretty cut up because he did have his motives questioned a couple of times," Jackson said. "I can't cry on cue. You could call it A-grade acting, but I call it genuine vulnerability."
The Bachelorette Australia airs Wednesdays and Thursdays at 7.30pm on Ten.