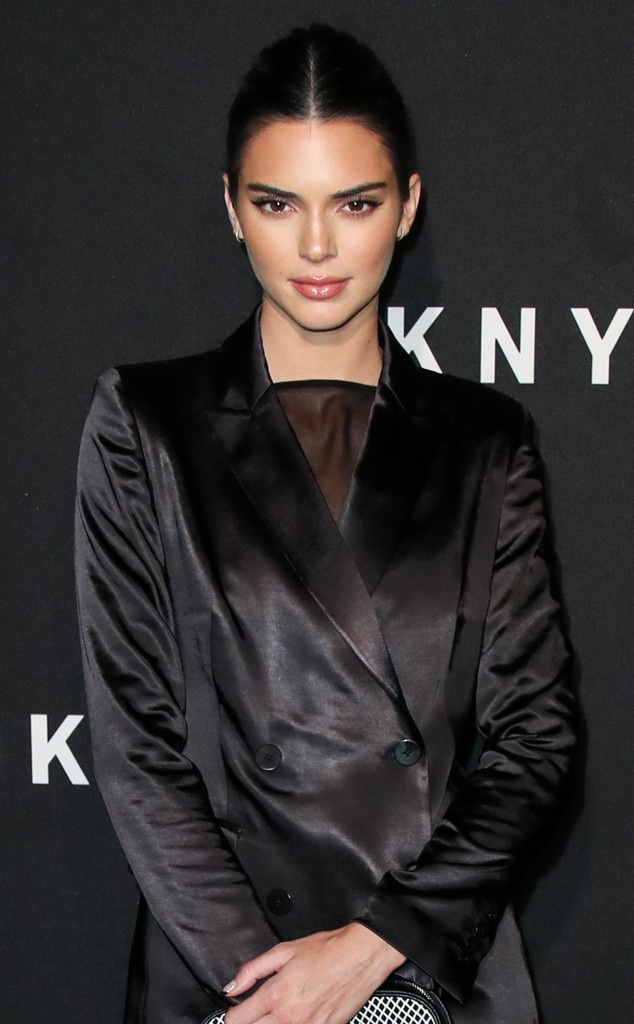 John Photography/Shutterstock
Happy birthday, Kendall Jenner! 
While the supermodel kicked off her birthday celebrations on Halloween Thursday night, today's officially her 24th birthday. 
The Keeping Up With the Kardashians star began celebrating her 24th trip around the sun by hosting a star-studded birthday celebration at Blind Dragon in West Hollywood. For her birthday party, Kendall dressed up as a fairy—but what amazing outfit does she have up her sleeve for today? 
Kourtney Kardashian, Gigi Hadid, Bella Hadid, Caitlyn Jenner, Hailey Bieber, Jaden Smith, The Weeknd, Rob Kardashian and so many more were in attendance at her party on Halloween. Today, she's being showered with even sweeter birthday wishes from family and loved ones on social media. 
Of course, Kris Jenner was one of the first to wish the supermodel a happy birthday on social media. 
Sharing a series of childhood photos of her second youngest daughter, Kris wrote: "Happy birthday to my beautiful angel girl @kendalljenner!!! You light up every room you walk into and everyone you meet and you light up my life every single day. You are so beautiful inside and out and I'm so proud of you Kenny!! You are the most amazing daughter, sister, friend, and I love you more than you can ever imagine. Have the best day, birthday girl!! You are my heart, ❤️ Mommy #HappyBirthdayKendall." 
We're not crying, YOU'RE crying. 
Her big sis, Khloe Kardashian, also took to social media to wish her a happy birthday calling her one of the "most loyal rare gentle souls I've ever known."
"Since the day that you were born, you have made all of my days brighter! I am so incredibly honored that I was chosen to be your sister but it's an even bigger honor that we have chosen to be one another's best friends. I am so lucky to have someone as selfless and loving as you by my side. I love you, I respect you, I value everything that you are. I pray today, that you are showered with love. That every wish you've ever had comes true! I love you so much. As lame as this sounds I feel like I love my siblings more and more every day. Happy birthday Kenny!! We celebrate you always sister," Khloe wrote on her Instagram post, accompanied by a series of pictures and videos of the two. 
Kendall also commented on Khloe's post, writing, "i love you so much. i'm so lucky to have you." 
More than that, Khloe also celebrated her little sister on her special day via her Instagram Story, posting numerous throwback pictures as well as a video of her daughter True Thompson wishing aunt Kendall a happy birthday. 
Besides sharing pictures and videos of Kendall throughout recent years, Khloe can be heard asking True, "can you say happy birthday?" 
"Happy," responds True while not quite able to say "birthday" yet. 
Looking cuter than ever, True is all smiles and giggles saying "auntie Kenny" and blowing her a birthday kiss on her special day. 
Sister Kourtney Kardashian also wished Kendall a happy birthday, writing on her Instagram Story, "happy birthday auntie kenny!!"  
Kim Kardashian, who recently celebrated her 39th birthday in October, also shared an adorable baby picture of Kendall on her special day. 
"My baby Kenny @kendalljenner Happy Birthday. You are the sweetest doll in the world. I wish you a lifetime of love and happiness! I love you so much and can't wait to celebrate you today," Kim wrote to her sister on Instagram. 
To which Kendall commented, "LOVE YOU SISTER." 
Gigi's sister, Bella Hadid, also took to her Instagram Story to share her favorite pictures of the birthday girl. "Happiest bday Kagey," Bella wrote on Instagram. "I love you!"
Kendall, who also shares a birthday with the legendary Vogue editor Anna Wintour, also received a joint birthday shoutout from the iconic Donatella Versace. 
In a split photo of Kendall and Anna posted to her Instagram Story, Donatella wrote, "Happy Birthday to Anna & Kendall today!" 
Emily Ratajkowski also wished Kendall a happy birthday, posting a picture of the two sharing a plate of pasta. She wrote: "happy bday bb @kendalljenner." 
Longtime family friend Malika Haqq also sent Kendall her best, writing on her Instagram Story, "Happy Birthday to the sweetest piece of humble pie @kendalljenner love you."
The birthday girl has also continued to repost everyone's birthday wishes on her own Instagram Story. 
Who knows how Kendall will be celebrating her birthday today, but one thing's for sure—she's walking into 24 surrounded with lots and lots of love.