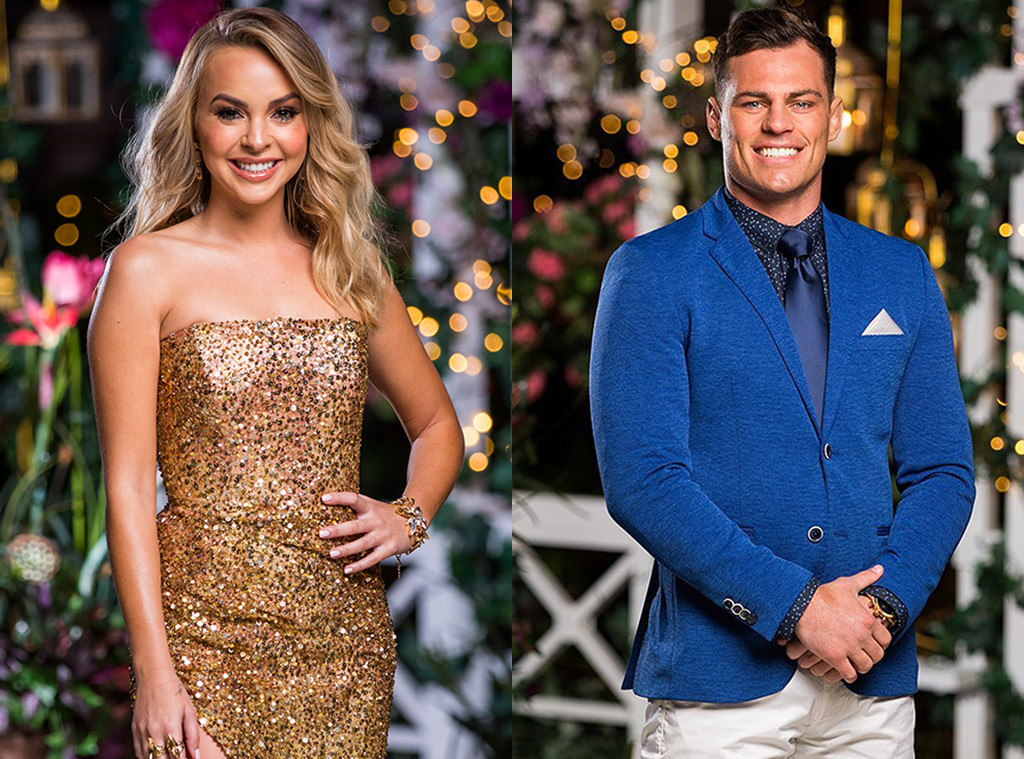 Ten
And then there were seven.
There are plenty of strong contenders left on The Bachelorette Australia (hello, Ryan), but an underdog might actually be the last man standing. As eliminated bachelor Haydn told E! News, 25-year-old Jackson is his top pick to win Angie's heart.
"He's very smart, he's very witty, and he's a good bloke as well," Haydn said after his exit on Wednesday. "He is very mature. So that would be something nice for Angie."
Jackson hit it off with Angie on a one-on-one helicopter date, took care of her when she was feeling queasy, and scored a kiss after winning the "daddy" themed obstacle course in episode 7.
According to Haydn, Ciarran and Carlin could round out the show's top three. "Ciarran for his flair and his ability to make Angie laugh. Carlin because he's a great looking bloke," the firefighter predicted. "I think Angie would do well if she ended up with any of those three."
As for Haydn, the 32-year-old left the series after declaring he didn't want children, a topic he and the Bachelorette didn't see eye-to-eye on.
"I'm not really a kid person. I often forget that people plan their lives around having kids and creating a family. I love my job and I want to travel. Kids were never really at the forefront of my mind," he told E! News. "I wasn't going to make up a lie and say, yeah I want kids, just to try and stay on the show."
After his Bachelorette experience, Haydn is ready to find a partner—but don't expect to see him on Tinder.
"No Tindering, I don't really like the idea of Tinder. But I'm putting myself out there," he said. "I think it's a great time to start settling down. I'm over the whole party scene. If I can find someone who wants to travel with me and enjoy life, then I'm definitely looking forward to that."
The Bachelorette Australia airs Wednesdays and Thursdays at 7.30pm on Ten.