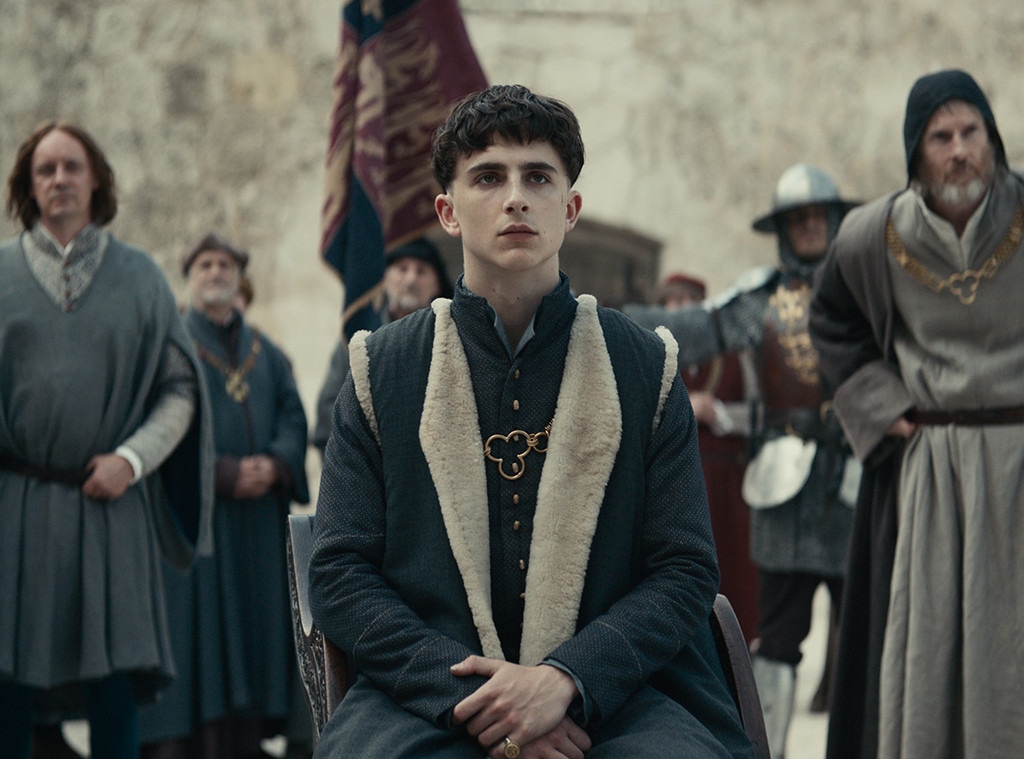 Netflix
Timothée Chalamet found himself surrounded by Aussies when playing Prince Hal, the reluctant heir to the English throne in Netflix's The King.
Co-writer Joel Edgerton stars as booze-soaked knight John Falstaff, while Ben Mendelsohn shows up as Hal's ailing father, King Henry IV. And, as if there weren't enough Aussies in the mix, The King was directed by David Michôd of Animal Kingdom fame and produced by Liz Watts.
"I felt like I was jumping into this creative Australian spaceship," 23-year-old Chalamet told the crowd at the Sydney premiere. "I felt like we were a bunch of hippies. A bunch of Australians and a young American playing an English king. It felt pretty f--king cool."
The King was inspired by Shakespeare's Henriad, and follows Prince Hal's journey from drunken party boy to war hero. Michôd knew Chalamet would make the perfect lead after seeing his Oscar-nominated turn in 2017's Call Me by Your Name.
"Any challenge I threw at him, he took it and ran with it. And I think it's extraordinary," The Rover director told E! News. "What surprises me is that such a young actor can deliver such a mature performance."
Edgerton, who played Prince Hal on stage in Australia in the late '90s, looked forward to seeing the 23-year-old's take on the famous figure.  
"Timmy has worked it out at a very young age," Edgerton said. "He's an incredibly young, beautiful, intelligent, sensitive actor and we're very happy to have him in this movie."
But Chalamet didn't think he was immediately right for the role, which won Laurence Olivier an Oscar nomination.
"I read it and I thought, wow, this is an excellent script for whoever does it because I couldn't really see myself in it," he said at the premiere. "And then I had a couple of meetings with David and he made it clear to me we weren't trying to one-up Kenneth Branagh or Laurence Olivier because we would have no shot at doing that. It was really trying to do something new."
The King also boasts standout performances from Lily-Rose Depp (who is rumoured to be dating Chalamet IRL) as princess Catherine of Valois, and Robert Pattinson as the cocky Dauphin of France (complete with a wild wig and accent).
Ultimately, Michôd thinks the historical epic about an unlikely king's rise to power will strike a chord with audiences today.
"As soon as Joel and I started looking at the Shakespeare plays, and then the research that we did, we started to draw immediate parallels with recent White House administrations, on both sides of the political ledger," he said. "I think that's a testament to the power of Shakespeare, that these stories are eternally relevant, even though they're hundreds of years old."
The King is in select cinemas now and on Netflix from November 1.