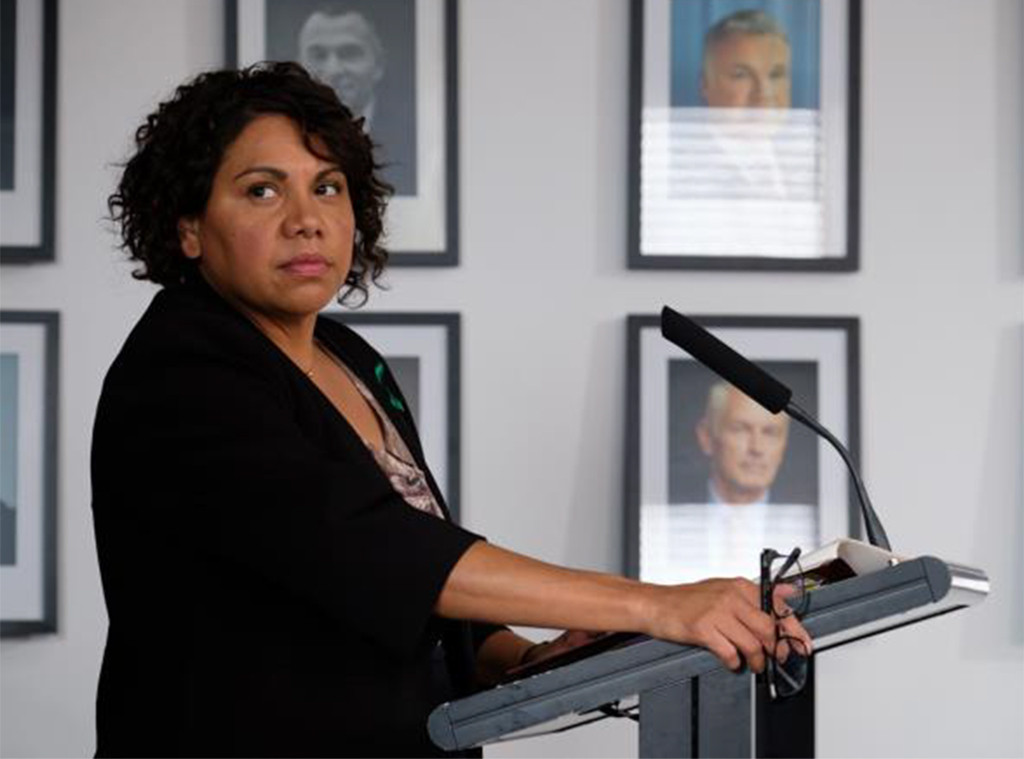 ABC
Deborah Mailman is at the top of her acting game but there's one thing she still struggles with when the cameras start rolling: the walk and talk.
For ABC's political drama Total Control (October 13, 8.30pm) Mailman found herself striding through the corridors of Canberra's Parliament House with a lot to juggle.
"One thing, funnily enough, that I'm not so great at is prop acting. I'm really terrible at it," the 47-year-old told E! News with a laugh. "Having to carry a briefcase, have 1000 folders under my arm and have a phone conversation while walking down a corridor in heels, I felt like I was tapping my head and rubbing my belly."
In her first—and long overdue—lead role, Mailman plays Alexandra Irving, a gutsy Indigenous woman whose heroic response to a gunman on a domestic violence rampage captures the eye of the Australian Prime Minister (played by Rachel Griffiths, also an executive producer). It's not long before the Prime Minister asks Alex to take up a seat in the Senate.   
Ahead of the six-part series, E! News caught up with Mailman to talk about her incredible performance and why she'd never get into politics.
The role of Alexandra Irving was created with you in mind. Did it take much convincing for you to join the series?

No, it was a no-brainer. It's the team that I always love working with, which is Rachel Perkins and Darren Dale and Blackfella Films [Redfern Now, Mabo]. They've always looked after me with opportunities to play really complex characters, and the fact that now they came with such a wonderful premise, and a fantastic story of a black female politician, it was really exciting from the go get.
How did you feel reading that very first scene where your character stares down a gunman?  
I've never had a reaction in a way that I had when I first read that Alex is confronted by the gunman and that situation. It was a real punch in the gut moment reading that. I just thought, wow, if this is how we're going to start this story, I can't wait to see where it goes.
What was it like starring alongside national treasure Rachel Griffiths?
She's a fabulous woman and it's great that I still continue that relationship with Rach outside of work. She's such a fantastic actor. Her being an executive producer, she was also part of the team who trusted me with the role of Alex. I love what Rachel stands for in her work. She's all about creating fantastic female roles. Complicated, complex, contradictory, deeply flawed female characters. It was really important that we had that within the story.
Did you enjoy shooing in Canberra?
I love Canberra, full stop. I really love the place. Shooting in both Old and New Parliament House, it was a real privilege to work in those places. There's an incredible reverence and respect when you enter those buildings, that's where the biggest decisions are made. And then we had the juxtaposition of outback Queensland, of going out to Winton for about three and a half weeks. It's important to the story to show this is the world that Alex lives in. She comes from Winton, she's a country girl, and then she has to leave that for the corridors of parliament.
How do you think you'd fare as a senator?
I'd be terrible at it! I would hate that responsibility. I say this a lot, but I'm happy swimming in my own lane. I love doing what I do. I'm an artist, and that's what I want to do and continue to do. It's not that I don't care for politics; I certainly love reading about politics and I pay attention to it. But I have a respect for it because it's something that I wouldn't want to do.
These days, what role do you get stopped on the street the most for?
Some people come up and say they loved The Sapphires. But then some can be quite random and say I saw The 7 Stages of Grieving at the Opera House 20 years ago. I still get quite chuffed when people come up to me. It's really nice, actually.
At the moment you're not on social media. Is that a conscious decision?
I've never been on social media, and I never will. It's not my world, it's not me and it's something I have zero care factor for. I'm a little bit stubborn like that. I'm a really private person as well, and I've always tried to protect that part of me because often my work does take me into the limelight.
What do you see next for your career?
I hope we get a season two out of Total Control. It would be fabulous, because where we end the story is a bit of a cliff-hanger. Outside of that, I'm really not sure. As long as the opportunities keep coming and they offer a different experience than the one before, I'm very grateful.
Total Control premieres Sunday, October 13 at 8.30pm on ABC and iview.