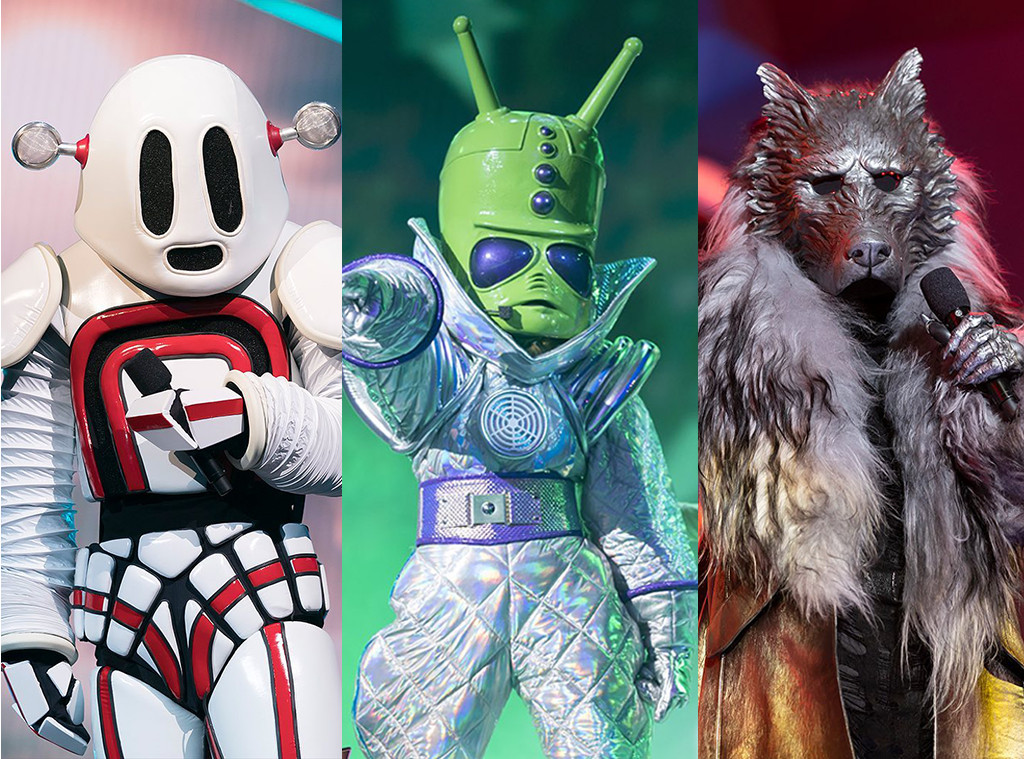 Ten
The Masked Singer Australia made its long-awaited debut Monday night on Ten. In addition to the spectacle of watching Lindsay Lohan pretend to know our local talent, the bonkers series served up plenty of jaw-dropping musical moments and head-scratching clues.
The competition, which originated in South Korea and is about to drop its second US season, centres on 12 completely masked and costumed performers who are all at least semi-well known public figures. The show promises that while "all of them can sing", they're not all professional singers.
Spoilers and major hints follow, so stop reading now if you don't want to know anything else about which Aussie icons might be behind the over-the-top masks! 
On episode 1, the Octopus was revealed to be former Big Brother Australia host Gretel Killeen. Ep 2 saw cricketer Brett Lee unmasked as the Parrot.
Here's which celebrities fans are convinced are still in the competition:
Rhino
Former Wallabies player Wendell Sailor is at the top of Twitter's guesses about the Rhino. Sailor represented Australia in both rugby league and union, which fits the clue, "In my career I hopped from one top job to another."
Dragon
The Dragon describes themselves as a "brute" and having petrol in their veins. "I guess you could say I've done a few more laps than the average Aussie dragon," they teased, leading some to speculate Grant Denyer, Craig Lowndes or Adam Brand is behind the mask. 
Alien
The Alien is an early frontrunner who's got nearly everyone convinced they're none other than Sydney Olympics songstress Nikki Webster.
Lion
"As a young Lion, I entered a competition that would change everything," they told us, which has some initially thinking this singer is Australian Idol alum Casey Donovan. They were also shown boxing, which doesn't quite fit the bill, but hey. Others were certain singer Kate Ceberano was actually the Lion after seeing her performance.
Monster
We know the Monster is a female celebrity who feels "split between two worlds with part of me living in the shadows." In their clue they also note, "I have trained as many things, but I changed horses in the middle of the stream" The most promising guess? The Project's Gorgi Coghlan. 
Prawn
Based on the clues, Twitter seems to think the Prawn is either judge Dannii Minogue's ex Kris Smith or cricketer Freddie Flintoff. 
Robot
When you search "#MaskedSingerAU robot" on Twitter, the site helpfully suggests you may be looking for Cody Simpson, and fans seem to agree.
Spider
This celebrity loves to write and says their words have "gone all over the world." The verdict is still out, but guesses currently range from Em Rusciano to Kylie Minogue to Sia and Jessica Mauboy (who previously told E! News she wasn't appearing on the show).
Unicorn
The main clue we have for the Unicorn is, "I have been the princess, but never the queen," which seems to fit for this being Marcia Hines' daughter, Deni Hines.
Wolf
The Wolf is a male star who says, "I'm not the big bad wolf, but I ain't little green riding hood either." Welp, this one is all but confirmed to be Australian Idol's Rob Mills. In addition to his voice being a dead giveaway, he has a level of colour blindness that means he can't distinguish between red and greens, hence the "little green riding hood" clue. Oh, a radio producer also shared a snap with the Wolf, captioning it "me with @RobMillsyMills."
The Masked Singer Australia airs Mondays and Tuesdays at 7.30pm on Ten.