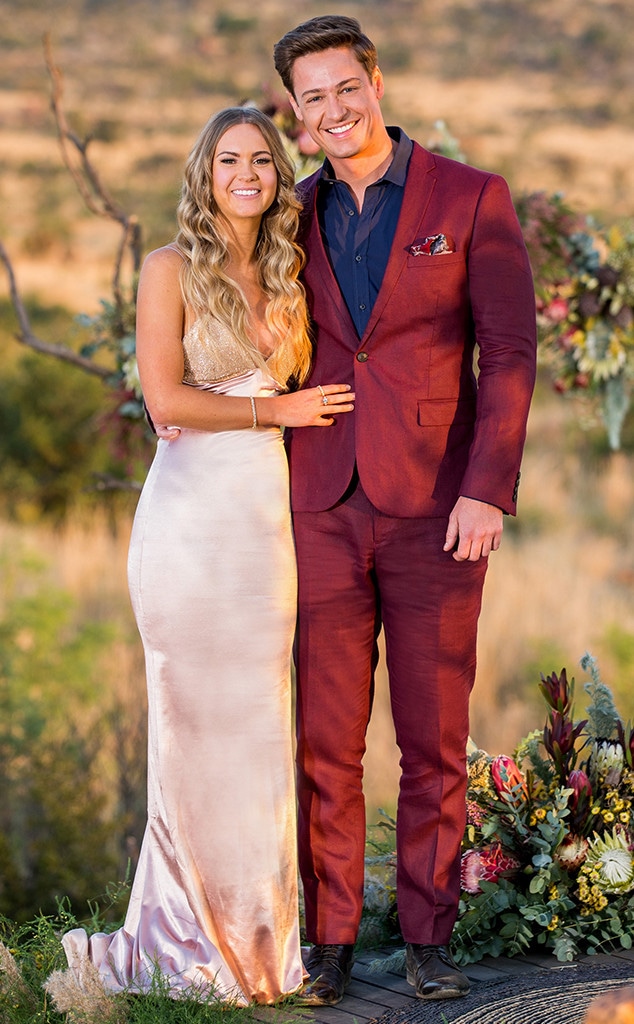 Ten
Being spotted in public together is no longer a complete disaster for Matt Agnew and Chelsie McLeod.
The Melbourne-based couple told E! News it was tough keeping their relationship a secret after filming The Bachelor Australia finale in South Africa, which saw Chelsie receive the final rose over Abbie Chatfield.
"We work really close together and go out in similar areas, so a lot of restraint had to be exercised," astrophysicist Matt explained.
But a night out in Prahran nearly spoilt how the series finale ended. 
"We almost bumped into each other last weekend," chemical engineer Chelsie said. "I did warn Matt that I was going to be in the area and shared my location with him, but still, I saw him twice."
Added Matt, "Look, I didn't have loads of notice. And there was a bit of grog flowing, so I wasn't at my quickest. I managed to extract myself from the situation, then almost ran into Chelsie again. We managed to avoid any kind of meet-up and blowing the cover, literally a week out."
After filming the finale, the pairs' covert dates were organised by The Bachelor crew, who arranged a car and dropped them off at secret locations. The first normal couple activity Matt and Chelsie enjoyed together was a homecooked dinner (Matt is the chef in the relationship) and a movie night. 
"We watched a movie together on the couch cuddled up, that was probably the most normal thing," Matt, 32, said. "The most recent one we watched was that Ted Bundy one with Zac Efron [Extremely Wicked, Shockingly Evil and Vile]."
"Very romantic, that one," Chelsie, 28, chimed in with a laugh.
The pair told E! News they both realised they were falling for each other during The Bachelor hometown visits.
"I knew there was definitely something special as early as our first date. But it really started to solidify during hometowns," Matt said. "Starting to peer behind the curtain and seeing what a Melbourne life looked like, that's where it all started becoming very real."
As for Chelsie, "That was the same for me. And then when I got my oxytocin necklace, and the thought that was put into that, that meant a lot to me. I knew there could be definitely something really good with Matt."
If the couple does stay together and eventually gets engaged, don't expect their wedding to be televised like other Bachelor couples in the US.  
"I already am not someone for cameras, as it is," Chelsie told E! News.
Matt agreed a hypothetical TV wedding was out of the question.
"My family are fiercely private people and they weren't even comfortable being on the show. So something as intimate and as personal as a wedding [is out]," he explained. "If other people want to share their own weddings, that's fine. But certainly for us, it would be something that would be just us."