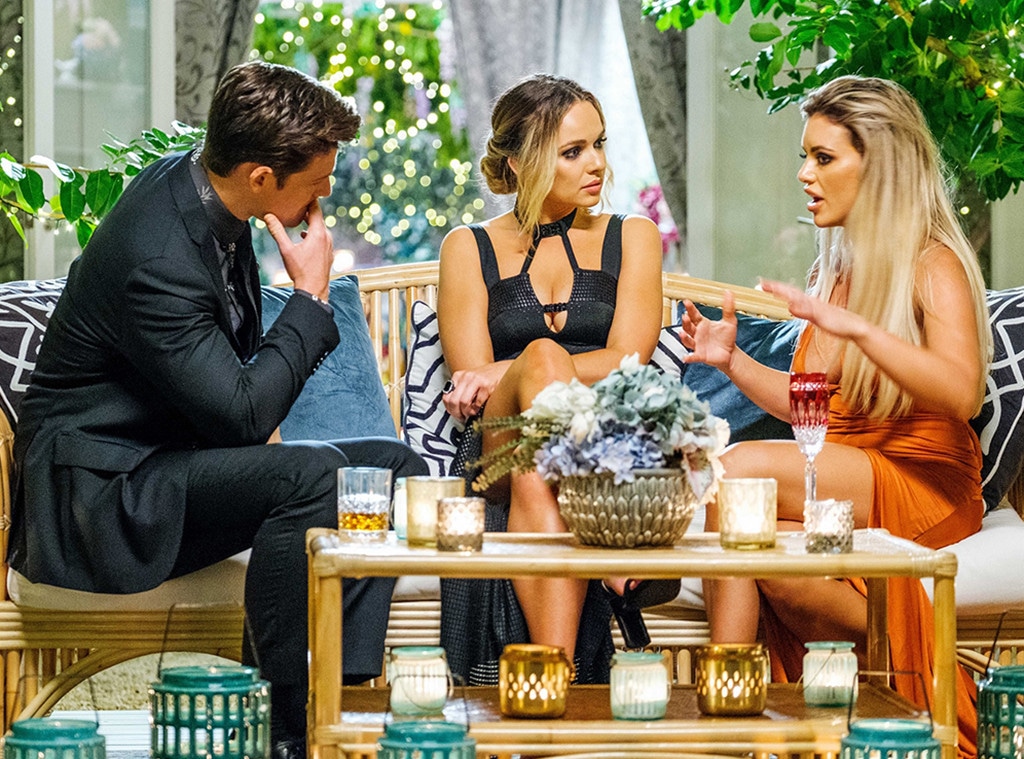 Ten
Wednesday night's episode of The Bachelor Australia finally delivered on the dramatic walkout and "dog c--t" name-calling it's been teasing for weeks. But while Monique and Abbie's on-screen antics were enough to infuriate Bachelor Matt Agnew, it seems there was even more dirt happening behind the scenes.
The Daily Mail obtained texts reportedly between one of the bachelorettes and a friend, in which the contestant claimed some of the girls lied about the disparaging comments to the cameras.
"Loads of us would bag him out after he got with anyone. The Abbie/Mon thing just came from nowhere," the Bachie star allegedly wrote. "Half [the] girls saying it happened [weren't] even there at [the] time haha."
She went on to say that she was "99% sure" producers would have "promised" them a role on Bachelor in Paradise "if they said they heard it in an interview on camera".
After Abbie told Matt that Monique had called him a "disrespectful pig" and a "dog c--t", the 31-year-old astrophysicist took several girls aside during episode 5's cocktail party to question them about what exactly went down. While Monique initially denied she said either of the remarks, Rachael claimed she did call him the c-word but as a joke.
"We were in stitches laughing. I don't remember exactly what was said, but if it was said, it was as a joke. It was taken completely out of context," Monique, 26, said in an interview with TV Week, where she also made clear she has "nothing nice to say about" Abbie.
Abbie, meanwhile, told the outlet that she stands by her decision to tattle on Monique to Matt.
"If I were the Bachelorette, I'd want to know," Abbie, 23, said. "Matt isn't a guy who loves drama," she continued. "He's so emotionally intelligent; he didn't think this was what he signed up for—all this cattiness and people talking about him."
The Bachelor Australia airs Wednesday and Thursday nights at 7.30pm on Ten.