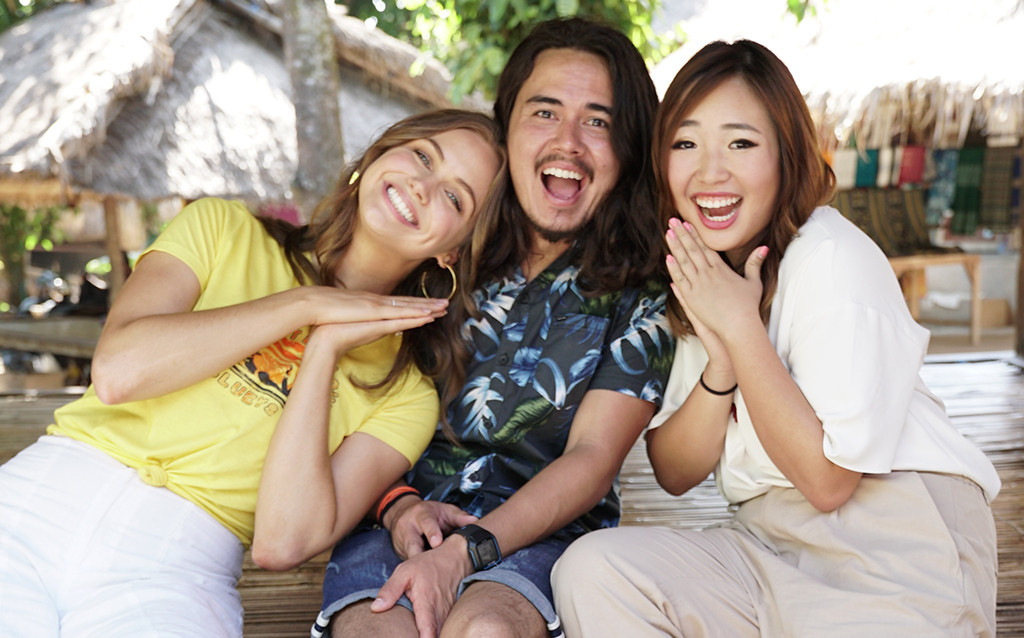 It's a brand new season of E! Travel Diaries, and this time we're taking you across the rich, ravishing landscapes of Indonesia.
Together with our dauntless hosts Ksenija Lukich, Jemma Wei and David John Schaap, we take you to Bintan, Yogyakarta and Lombok to discover what each stunning destination has to offer, but first, what better to kick off a travel series than to get the best travel tips from our hosts?
From practical travel advice to dream destinations, our three co-stars spill the beans.
KSENIJA LUKICH
The E! Australia host is a seasoned pro when it comes to jetting across the world for movie premieres and red carpet interviews—but when it comes down to travelling, she still loves the intimate, unique experiences. "My most memorable travel experience was probably my very first trip to Europe with my friends," Ksenija tells us. "I was 20 and spent six weeks in the UK, Greece, Serbia and Croatia. We stayed in hostels, ate street food and swam in the Mediterranean. It was perfect!" Here, she shares her best travel tips.
What is the best travel advice that you have ever been given?
When in transit prepare for delays in your timeline. Calculate how long it will take, then add half an hour. Having a little extra time up your sleeve helps with travel stress.  
Which do you prefer: A city, countryside or beach getaway?
City and beach! I like to mix it up when I travel. Spending a few days exploring and "getting lost" in a city then finishing up with days lounging at the beach. You get the best of both worlds. Nature and culture.
If you could visit any place in the world, where you go?
I have been desperate to go to the Caribbean for a long time—from the Bahamas to Antigua or Puerto Rico! I haven't visited that part of the world before so it's definitely on my bucket list. 
What luggage packing tips do you live by?
My recent favourite is rolling clothing! It helps you find what you're looking for much quicker and stays neat. I also pack a large laundry bag and pop my washing in as I go, that way when it comes to unpacking, everything can go straight in the washing machine.
For carry on, I always make sure my liquids are pre-packed in a clear bag, my iPad is at the top of my bag, and I have no metal so I don't hold up security. 
What's your travel skincare routine like?
I try to keep it simple as skincare can be heavy. I have a gentle cleanser (Cetaphil), moisturiser (I love Embryolisse Filladerm Emulsion) and an eye cream (Charlotte Tilbury). I also have an excellent face sunscreen (Ultraceuticals SPF 50).
JEMMA WEI
"I'm very much a city girl at heart," Jemma shares about her travel picks. "I love the grid and the grind, and the access to theatre and culture offerings that are different from what I might get back home, so I tend to favour cities for solo travel." But beneath her bubbly, carefree nature lies a seasoned travel planner who always thinks ahead for her trips abroad. Find out the one must-do every traveller should cross off their lists, according to the lifestyle influencer, below.
What are five things that you always travel with?
This list is going to be super boring because I'm a very versatile traveller, and if you're talking about things I always travel with that's really just my basics, but here we go!
A travel adaptor. I have a few, but my favourite is the McGear Pd152, which is so ridiculously good that it's one of the things I always get for friends during Christmas or other present giving occasions.  It's not the most exciting gift but it's just so useful!
A small bottle of instant black coffee—just in case I can't get good coffee wherever I'm going, which happens more often than you'd expect.
The Laneige Water Sleeping Mask. It's a leave-on mask that's perfect for air travel as it comes in a 70ml tub, and it always works to calm my skin down whenever I'm heading to a different climate.
A book/my Kindle. I can't imagine getting on a plane without a book. I don't really like watching movies in the air so I rarely use the in-flight entertainment system, and whenever I'm travelling I either sleep or read. I'm currently reading Severance by Ling Ma and it's very good.
A planner. I love Gcal and all, but I'm still a pen and paper girl at the end of the day, and I have to have my planner wherever I am so I can either jot down ideas, check on my schedule, or sort out my to-do list on the go.
If you could visit any place in the world, where you go?
Well it's not so much a location as it is an experience, but I really want to do the Hammerhead shark dive in the Galapagos someday—or if time and money permits, spend a couple of weeks diving in Mexico, which apparently has some of the most diverse dive spots in the world.
What luggage packing tips do you live by?
PACKING CUBES! I only adopted the habit of using packing cubes last year, but it's totally changed the way I pack. They're so good for keeping your clothes organised by theme or colour, and if you travel in spurts like I do for work (multiple countries for a couple of days at a time), it's a really easy way of packing and unpacking at each destination. You can get them quite easily on Amazon or Taobao, and there are different kinds to suit all budgets.
What is the best travel advice that you have ever been given?
If you can't afford travel insurance, you can't afford to travel. Travel mishaps don't happen that often, but when they do, I'm always so glad to have insurance coverage. I have an annual global plan and I've claimed more than double my yearly premiums already, thanks to delayed flights, baggage, food poisoning, pickpocketing, and even a smashed phone screen—and it hasn't even been half the year yet!
DAVID JOHN SCHAAP
A self-confessed adventure buff, nothing is too wild or unreachable for David. A quick scroll though his Instagram will show you a plethora of off-the-beaten track experiences that will leave you slack-jawed with amazement. Still, the television host likes to KISS (keep it super simple) when it comes to his travel philosophy. And that hasn't taken anything away from his experiences—he shares the most memorable trip he's undertaken so far, and trust us, it's one for the books! 
What is the best travel advice that you have ever been given?
Don't be afraid to start, just do it and go, because you will learn a good, new experience in life.
What was the most memorable travel experience you've had?
Travelling to Mentawai Island and visiting the villagers. We were at the southern Sipura Island and we wanted to go north to Siberut to visit the local tribes. During that small boat trip from the south to the north we had to go through a really bad storm, big waves—boat fuel was pouring out and there was a really bad fuel smell on the main deck. We went through that storm for about two hours. The good thing is: We all survived that trip!
But that's not the end of the story, we had to use smaller, narrow boats through the river, and it took us seven hours, passing another storm, shallow water, pushing the boat, and another hour of hiking to get the local tribe village.
That's a trip I definitely won't forget!
What are five things that you always travel with?
Five things that I will always bring are: A hat, sunblock, water bottle, camera, and flip flops.
Which do you prefer: A city, countryside or beach getaway?
Countryside and the beach. For the countryside, I like to learn about new cultures and see the characters about the people. And the beach, because I love to surf and the ocean brings me peace and relaxes my mind.
What luggage packing tips do you live by?
My advice is to bring as little as possible! Find something that's multifunctional, because when you are travelling, you don't want to hurt yourself.
E! Travel Diaries premieres Sunday August 18 at 8pm, exclusively on E!