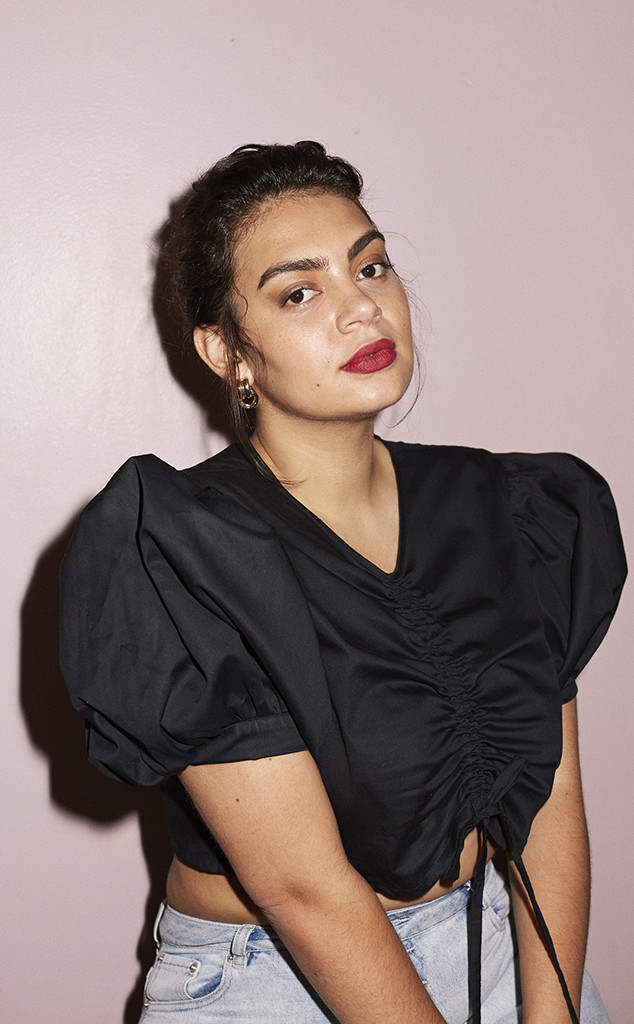 Warner Music Australia
Thelma Plum's debut album Better In Blak is arguably her most personal work to date. 
The Melbourne-based singer-songwriter told E! News that she approached the album with a new level of vulnerability compared to her 2013 EP Rosie and 2014 follow-up Monsters.
"I'm talking about a part of myself that I haven't really sung about in my other songs. It's very much about my identity and also about healing," the 24-year-old Gamilaraay musician said. "To write about how I'm feeling and to see that on a piece of paper, it's almost like I'm telling myself how I feel. It's like therapy, basically."
And despite the introspection, Better In Blak is packed with infectious bops like "Clumsy Love" (complete with handclaps) and the smart, synthy track "Woke Blokes". It also features some big-name collaborators, from Paul McCartney to Gang of Youths' David Le'Aupepe and Paul Kelly.
Ahead of her album release and national tour, E! News spoke to Plum about inspiration, unforgettable gigs and how she won over a music icon.
You visited both London and New York to record your album. Were you chasing a particular sound or producers you wanted to work with? 
I love travelling, so it was amazing being able to make music overseas. It's something I've dreamt about since I was really little. I wanted to work with particular people, and they just happened to be overseas in the two most beautiful cities in the world. I couldn't imagine prettier places to make music.
Your title track "Better In Blak" feels very cathartic. What was the inspiration behind that song?
I wanted to write about my identity and knowing who I am, and not really letting anyone take away from that. I'm a strong Aboriginal woman and no one will take away from that.
Did that idea shape the entire album?
Absolutely. Obviously, I sing about a lot about being an Aboriginal woman on this album, which I've not really done. I've kind of kept that part of me to myself with my last two EPs. But I think it's time. I feel comfortable sharing that part of me and who I am.
Your song "Homecoming Queen" definitely sounds like a self-love anthem too.
It is. Growing up I didn't see many people that looked like me when I was watching the telly or looking in magazines. It was pretty hard because I had to teach myself to love myself, and it was a really hard thing to understand why no one else looks like you. That's what the song's about.
You worked with some incredible artists on this album, including Paul McCartney, who contributed a guitar part for "Made For You". How did you two cross paths?   
My producer David Kahne produced that song, which is the last song on my album. He works with Paul McCartney quite often now in New York City. Paul McCartney came in to pick something up, but I had left by this time. He walked into the studio and he heard them playing the song, and he was like, whose song is this? Who is that girl singing? He's like, do you mind if I lay something down? And then he did. It's so nice that I have that now.
That sounds like a scene from a movie, not real life.
Oh my gosh, it was wild. I got to thank him when he came to Sydney. I got to go to his show and meet him and say how grateful I am.
How nervous were you at that moment?
So nervous. I was like, I might see you in New York for a coffee! As soon as I left, I was like, what? What the hell! He's not going to catch up with you for a coffee.
You also worked with Gang of Youths' David Le'aupepe, who guests on "Love and War". How did that collaboration happen?
I love Dave, and I love Gang of Youths and how he writes. He's a good friend of mine as well. We wanted to write together for some time and we made it happen. We were in the room together and he played me a guitar lick that he came up with, and the song turned into what it is now, that day, then and there.
If he's ever free during your tour is he going to jump on stage with you for that song?
I hope so! I would love nothing more than that. Maybe I'll hit him up soon.
What's been your favourite gig to date?
Probably one of the latest ones. I absolutely loved playing Groovin' the Moo in Bendigo in Victoria. It was really magical. It was the first time that I heard people singing back to my last single, "Not Angry Any More". It hadn't been out for that long, and there were people singing along and it was really special.
Better in Blak is released July 12. Thelma Plum's national tour kicks off August 9. Tour dates and tickets here.