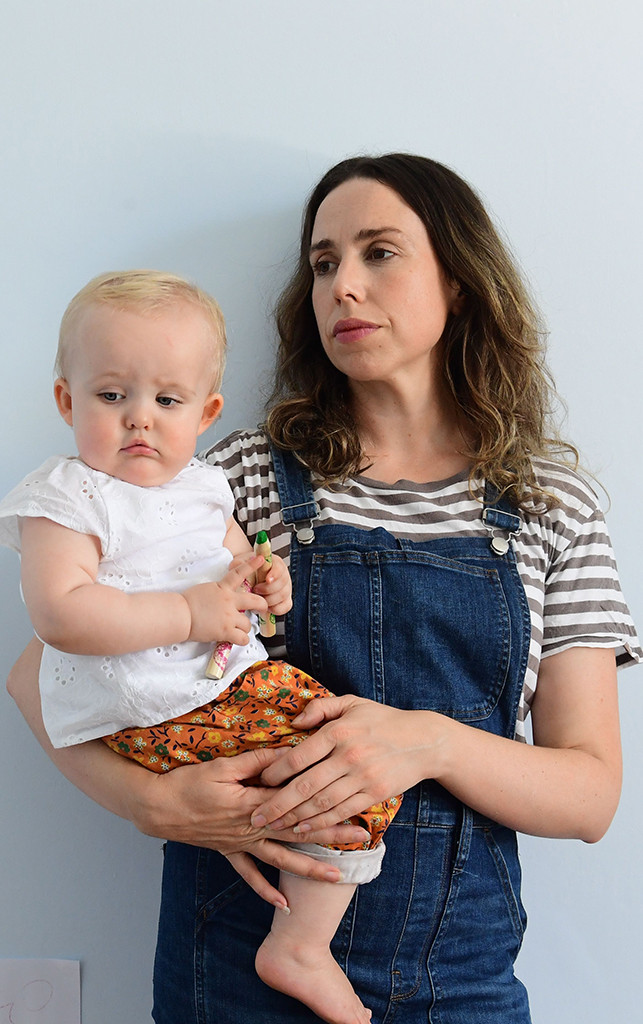 ABC
The Letdown is a gloriously honest and hilarious look at the struggles many new parents face.  
Now in its second season, the Australian comedy series has tackled everything from the highs and lows of sleep training, navigating the return to work and the terrifying level of planning involved for a first birthday party.
Alison Bell (who co-created the series with Sarah Scheller), stars as a frequently frazzled new mum Audrey, alongside a talented cast including Celeste Barber, Noni Hazlehurst, Duncan Fellows and Patrick Brammall.
New South Wales-born, Los Angeles-based Bell told E! News that while the series has found plenty of fans who have children, audiences don't need to share Audrey's experiences to find the series funny or relatable.
"[Think of] The Sopranos. We're not mafia, are we? And we loved that back in the day," the mum-of-one said. "It's absurd to think that you have to be a mother to enjoy any of these great shows around parenting."
Bell caught up with E! News for a spoiler-free chat about the second season of The Letdown (available to watch now on ABC iview in Australia and on Netflix in the US July 31).
Has Audrey found her feet more in season 2?
Not really! The season is very different to season 1. We meet an Audrey who is slightly more on top of mothering. But [she's navigating] issues around family and how she manages the needs of family, the needs of herself, the needs of her partner and the needs of her child. She's not flying. That's not life, is it? Who's flying these days?
The first birthday party in episode 1 is a hilarious, anxiety-ridden affair, with Audrey frantically making sugar-free chocolate crackles the night before. What was the inspiration?
My life was the inspiration! We did a lot on my son's first birthday, but not to the same extreme. I'm the sort of person who's up until 4 in the morning making a ridiculous birthday cake and making sure everything's all sugar-free. I was that crazy person. 
In what ways has your life changed since The Letdown's Comedy Showroom pilot in 2016 and season 2?
Holy moly. A career change. Prior to this, I worked as an actor. I dabbled in other things—dramaturgy and script editing—but I certainly wasn't a showrunner. I certainly wasn't a producer or a director or a creator of television. The writing of this show also collided with me becoming a mother myself. I had anxiety around what having children would do to my career, but it seems to have had the opposite impact. 
How do you feel about The Letdown being labelled a "mom-com"?
I've had two points of view on this. I'm very excited that we're one of a bunch of TV shows and films and a myriad of think pieces and really interesting literature on contemporary motherhood. That's thrilling. It's taken a very long time for those stories to be considered of value.
The political part of me would love us not to be categorised in this way because I think this show—like a lot of those other shows—are just about female experiences. And yes, motherhood is very central to our stories in The Letdown, but so is fatherhood. We get a lot of engagement by men through social media. I do still find the categorising of this as for mothers—just mothers—has a reductive effect in terms of our viewership. There is still a phenomenon where we're seen as a niche kind of show. I don't think there's anything niche about what we're doing.
What was it like making your directorial debut this season?  
Sarah and I co-directed ep. 2. It was thrilling. Because we live and breathe these stories and characters, it wasn't as daunting as we thought it would be, and we were surrounded by the most gracious and encouraging crew. We had an absolute ball and I very much hope that becomes a bigger part of my future.
How does the US response to The Letdown compare to feedback from Australian audiences?
We weren't sure if our sense of humour would land outside of Australia. It seems to have resonated not just in English speaking parts of the world, but through the magic of Netflix it's all through the world, this show, and we've got feedback from South Korea and Japan, parts of South America and through Europe. Even though the cultural specifics may be different, there is something extremely universal about the stuff we're examining in the show.
In terms of the US specifically, it seems to have landed well in the US and that's why right at this moment I'm based here. There are doors opening here in a way someone in my position or in my field can't really turn my back on if I want longevity in this career.
What's the must LA mum thing you've done since relocating to the US?
Trying to force my kid to eat kale quite often is probably a pretty LA mum thing to do. And smoothies. We do a lot of smoothies with kale in them.
Watch The Letdown season 2 on ABC iview now.