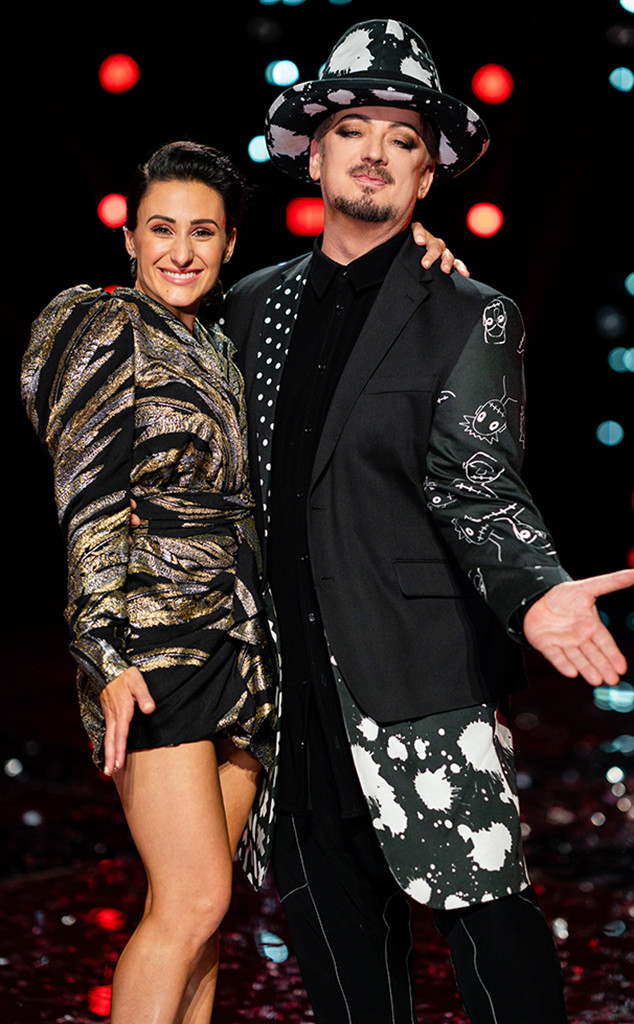 Nine
The Voice Australia 2019 was the ultimate second chance for Diana Rouvas.
After placing fifth in the 2012 season, Rouvas returned to the Nine series under the mentorship of Boy George and was named the winner on Sunday night.
"I don't think the whole thing has sunk in," the 35-year-old told E! News of her win. "I honestly have not had a second to sit down myself or with my family to process that. I'm just riding the rollercoaster."
After debuting her single "Wait For No One", which she co-wrote with husband Eric Aranda, Rouvas beat out finalists Daniel Shaw, Zeek Power and Jordan Anthony in the closest voting results in The Voice Australia history.
But the finale was not without controversy: a technical glitch led some views to complain they were unable to cast their vote. (In a statement, Nine confirmed that hundreds of thousands of votes cast on the night caused some "technical problems" for a small number of viewers.)
"I believe the issue was technical," Rouvas told E! News of the voting glitch. "There was too much going on and it blew up. But the votes went through and it was all sorted pretty quickly."
After the finale, the Sydneysider celebrated her season 8 win with a drink—and very little sleep.
"I went to the afterparty, I had a couple of drinks, I boogied and then I tried to get back at a reasonable hour, which ended up probably being 2.30-3am," she said. "Then I got up at 4.30am. Rock and roll!"
And while she hasn't spoken to coach Boy George yet, The Voice All Star is hoping to continue their working relationship.
"We've talked about staying connected, so we'll see," Rouvas told E! News. "I'm keen because he's amazing. He's been an amazing support for me."
Up next, Rouvas plans to use her $100,000 prize money and contract with EMI Recorded Music Australia to build a long-lasting career in the music industry.
"Obviously "Wait For No One", the original single is released, which is amazing. And then [I plan to] follow it up with more material and get out there and hit the road," she told E! News. "This is when it starts. Last night is an incredible moment, but it's what you do after."
She's also looking forward to returning to some semblance of a normal life. 
"I want to do my washing," Rouvas laughed, "and service my car!"