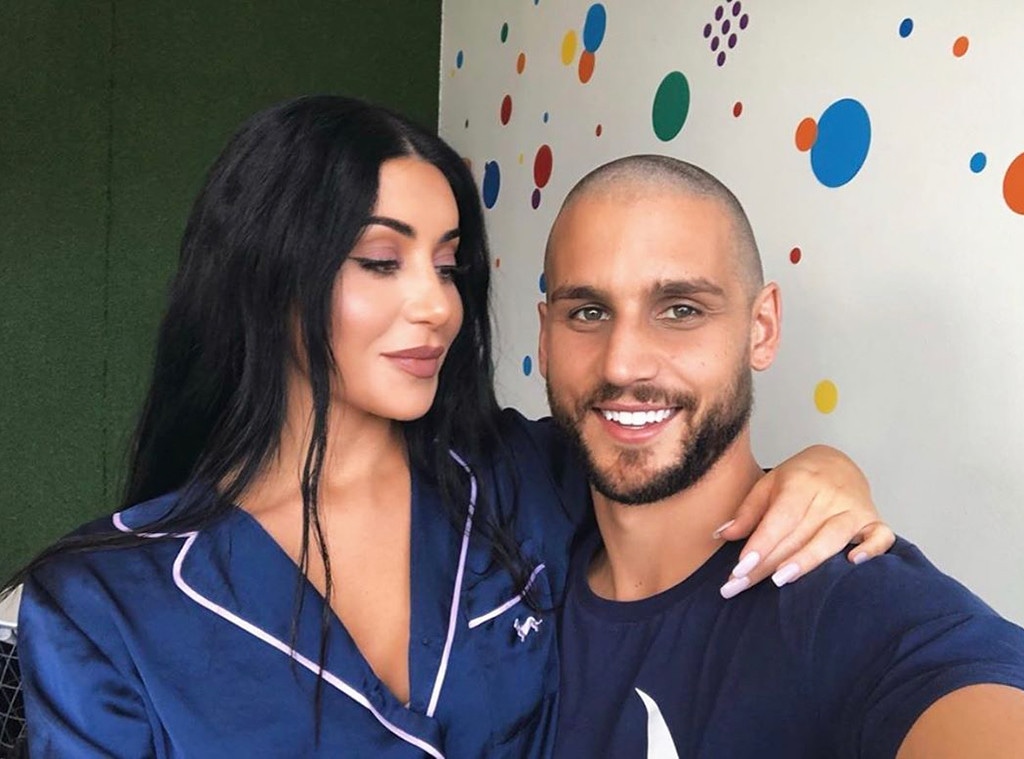 Instagram
Married at First Sight Australia's Martha Kalifatidis and Michael Brunelli are still together—and have made a tongue-in-cheek video to prove it.
In a Jun. 26 YouTube clip titled "The Truth About Our Breakup", the reality TV couple slammed speculation they have only stayed together for publicity.
"This is a video basically really just [addressing] the rumours that are out there that we're not together, and that I'm only with Michael because I wanted an invite to the Logies—which was my 'dream'—which I couldn't care less about," 31-year-old Kalifatidis said in the video. "But we're still together."
Kalifatidis also took the opportunity to look through Brunelli's Instagram messages to see if female fans had sent him flirty messages.
"Michael doesn't know what we're doing yet, but seeing as everyone thinks that we're broken up, I've been thinking, I wonder what girls are writing to Michael in his DMs if they think that we've broken up," the makeup artist said. "Let me go through your DMs."
However, Kalifatidis discovered that all of the school teacher's messages were above board.
"There's none in there," 27-year-old Brunelli told her. "I don't attract those kind of girls. Maybe we should read through yours."
Kalifatidis disappointedly quipped back, "I kind of feel like, Ew, nobody wants you. What am I doing with you?"
She went on to explain that many messages she received were "disrespectful" and "disgusting", before adding "most of my DMs [say] that I'm a tumorous growth on you and I just wear you down."
Kalifatidis has previously opened up about facing social media vitriol after appearing on the Nine reality series.
"The amount of death threats and violent threats that I received, I said to Michael, I'm actually scared now," she said in a Kyle and Jackie O Show interview in April. "They know the local shops that I'm at—because I'm back living [in Melbourne] with my parents, I've been going to the local shops by myself—and they've been messaging me saying, Wait until I see you at so-and-so."
Since the MAFS finale, Kalifatidis has moved back to Melbourne and is living in her parent's house, while Brunelli lives nearby with a housemate.
In other huge Michael and Martha news, the school teacher also cut off his luscious locks during Nine's Jun. 10 Gold Telethon Appeal. Thankfully, it was for a good cause, with funds going towards the Sydney Children's Hospital Foundation.