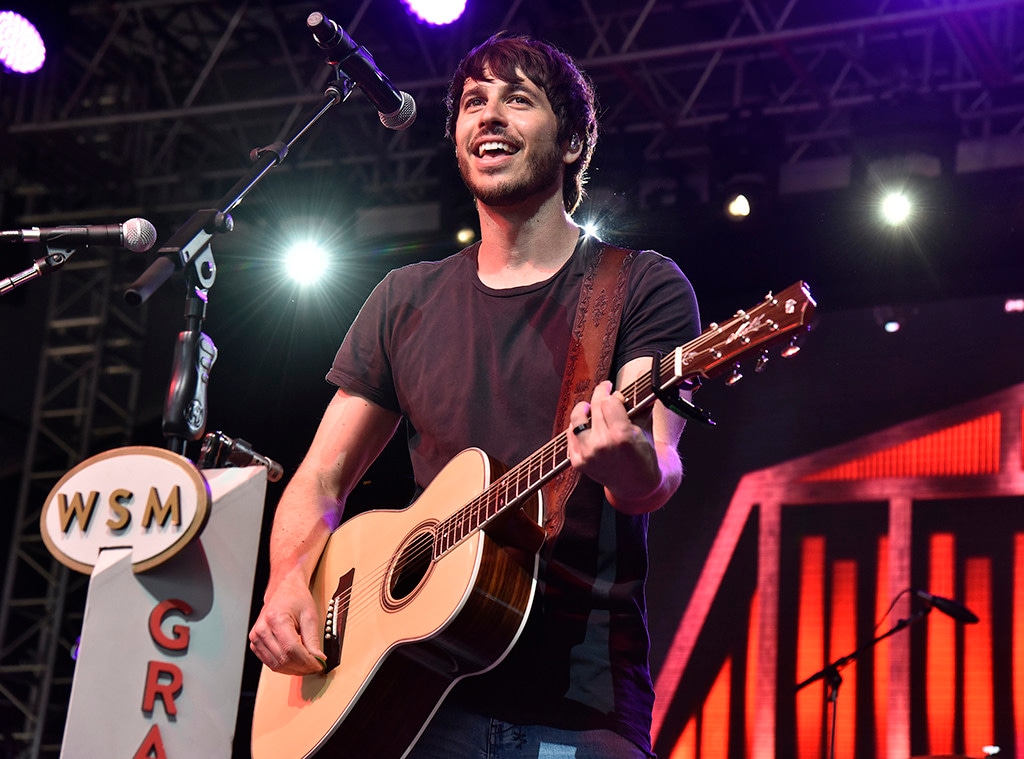 Tim Mosenfelder/Getty Images
From Newcastle to Nashville!
Australian country musician Morgan Evans traded his hometown's beaches (and "good coffee") for Nashville, where he now lives with his wife, Grammy-nominated American singer Kelsea Ballerini.
"I wouldn't say I'm there very often, but that's where my stuff is," Evans told E! News ahead of his 2019 world tour, which includes seven shows in Australia. "I've travelled and made music in LA, New York and London, but the concentration and the community feel of the music industry in Nashville is just incredible. I would walk to my producer's house and we made the record [Things That We Drink To] there together.
"Not many things could get me to move from Newcastle, but Nashville did."
The move paid off. In October, the 34-year-old's record debuted at No. 5 on the ARIA Albums chart, and includes the swoon-worthy hit "Kiss Somebody" (which peaked at No. 1 on the US Country Radio chart), cruisy anthem "Day Drunk", and his latest feel-good single "Young Again".
Ahead of his Australian shows, Evans caught up with E! News to talk career highlights, collaborations and "Old Town Road".
Is your wife Kelsea coming with you on the Australian tour? How do you navigate different touring schedules?
We definitely plan ahead to make sure we spend some time together. Well, not some time—a lot of time. Last year was really tough, but this year has been great and we've seen a lot of each other. I'll try to bring her down here, but she's so busy that I can never assume that she will be able to make it.
Jason Kempin/Getty Images
Do you test lyrics or melodies on each other when working on a new song?
All the time. We're each other's biggest fans and biggest critics as well. I'll bring a song home and play it to her and be a little nervous because, you know, she has critical ears. She'll listen, and sometimes she'll get to the end of the first chorus and she will stop and be like, "It's not my favourite" [laughs]. When she says that I'm like, I'll delete that file, on to the next one.
After the success of "Day Drunk", are fans always trying to shout you drinks?
On a promo tour for "Day Drunk", you definitely drink a lot more than you would otherwise. We played at a radio station this morning, and I think it was 10am and I had a beer in my hand about twenty seconds after we'd finished playing.
Undoubtedly one of the biggest country songs of the year is Lil Nas X's "Old Town Road". Are you a fan—and how do you weigh in on Billboard removing it from the country charts?
I don't know how it works with Billboard. I think it's a technical question more than a personal question because that song is a jam. There is no denying it, it's awesome. But honestly, my real answer to that is, I don't care [how songs are classified]. I feel like more and more listeners don't care either. They don't care that "Day Drunk" is a country song. They just care that they like it. Or not. That's the important thing to me. I feel like the quality of a song is the most important thing.
You've said Keith Urban is a music hero of yours. What's the best advice he's given you?
We've had a few decent chats, but I think more than ever it's just watching the way that he navigates life and his career. Because he's married to Nicole Kidman, they have a very public relationship too. [I look up to] the way they manage that, the way that they treat other people. I watched his show a few times last year because Kelsea was opening for him last summer. Every night you can tell that he's trying to be better than he's ever been. That's really cool and I aspire to do that as well.
What's been the biggest pinch-me moment of your music career so far?
The week that "Kiss Somebody" went number one in America—firstly, the fact that I can say that is insane. But Keith was playing in Nashville and Kelsea went out and sang their duet that they did, and I was standing side of stage with Nicole Kidman. Then Reese Witherspoon came over and she was like, "Hi, I'm Reese" and I was like, "Hello!" She goes, "I hear you have the number one song in country music this week, congratulations! Nic and Keith told me, they're so proud of you." And I was like, this is the best moment of my life.
Rick Diamond/Getty Images for CMT
Supporting Taylor Swift on her 2009 Australian tour must have been an amazing moment too.
It was! That was her first trip to Australia. It was absolutely wild. I'll never forget that. I only had one song out at the time here, and I definitely wasn't ready for that. Having moments like that so early on in my career—in the times where I was second guessing whether I should be doing this and everything seeming so difficult—it was easy to look back and be like, remember that feeling? That's why you should be doing this.
Who would you like to collaborate with next?
I love the way that electronic producers take songs and reimagine them. I feel like that might be the next thing that I might do. Something with a DJ, like [Norwegian EDM duo] Seeb. I love what they did with that Bastille song "Grip". Kelsea did a song ["This Feeling"] with The Chainsmokers last year and I loved that, the acoustic guitars against the crazy sounds they make. I don't know how they make them! But something like that would be really cool.
Morgan Evans' national tour kicks off October 18, with shows in Sydney, Perth, Adelaide, Melbourne, Brisbane and Toowoomba. Things That We Drink To is out now.