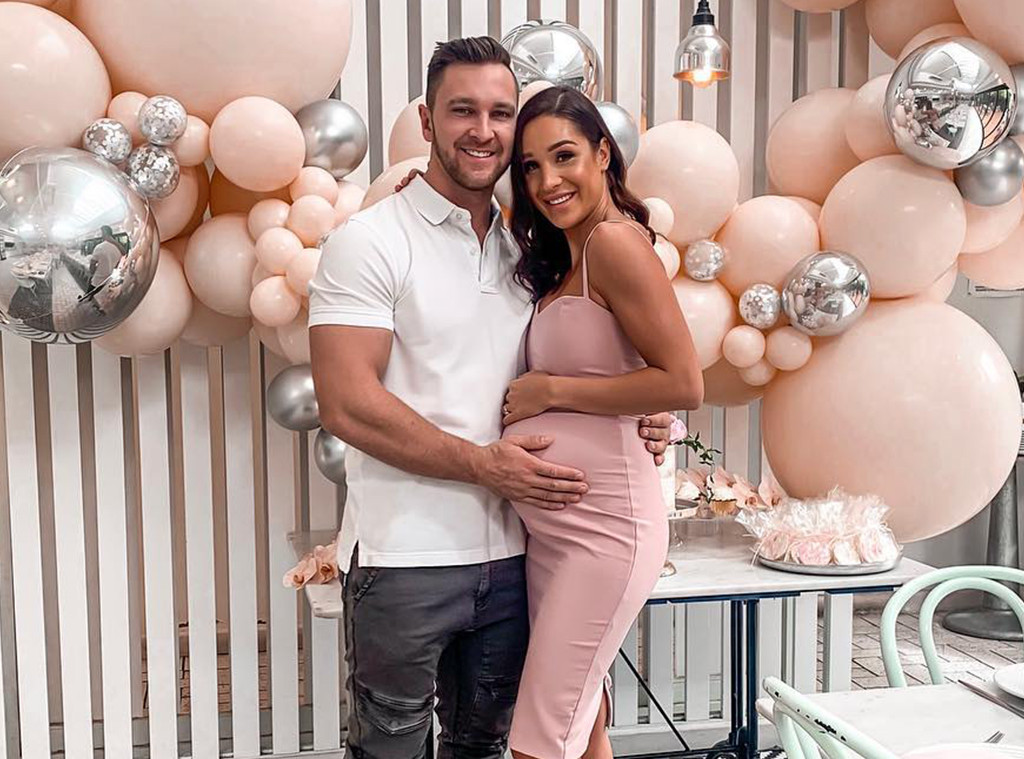 Instagram
Kayla Itsines is officially a mum!
The Sweat trainer took to Instagram on April 30 to announce she and fiancé Tobi Pearce welcomed a baby girl named Arna Leia Pierce late last week. Itsines shared the happy news with an adorable snap of Pearce holding their newborn.
"I feel so BLESSED right now," Kayla wrote on Instagram. "I AM blessed to have Tobi and my family to be there every day. I am so thankful to have the most amazing doctor and midwives ever to help me. This experience has been amazing for me and I am proud to say that...Holding her for the first time was truly the best day of our life."
The fitness influencer credited her fiancé, founder and CEO of Sweat, for his incredible support during her pregnancy and his ability to activate "Dad mode" straight away.
"From someone who made jokes the whole 9 months about not being able to change a diaper… to now not wanting to let ANYONE change her because he wants to help," the Adelaide native shared on Instagram. "Tobi wraps her up and cuddles her and she goes straight to sleep."
Itsines revealed she ended up giving birth via caesarean, as recommended by her doctor. The 27-year-old said she felt a little bit "sore," but is now working closely with her healthcare professional on her post-birth recovery and focusing on self-care.
And even though the Bikini Body Guide founder is a global fitness identity, she previously told E! News that she didn't feel pressured to get her pre-baby body back.
"You have to understand that that pre-pregnancy, during pregnancy and after pregnancy your body is going to be different," she said. "You have to embrace that journey."
Itsines shared her pregnancy milestones with her 11 million Instagram followers—including everything from pregnancy-safe workouts to updates on her baby bump (which she affectionately called "Muffin")—and is looking forward to connecting with other mums who follow her fitness program.
"I'm just so excited," Itsines told E! News in December. "The community is going to grow now and to be able to help the ladies who are on their journey at the moment and any mummas who are looking to get pregnant, I hope I can set a really good example for people."
Congratulations on the beautiful baby girl!
Related:
Kayla Itsines Debunks Fitness Myths