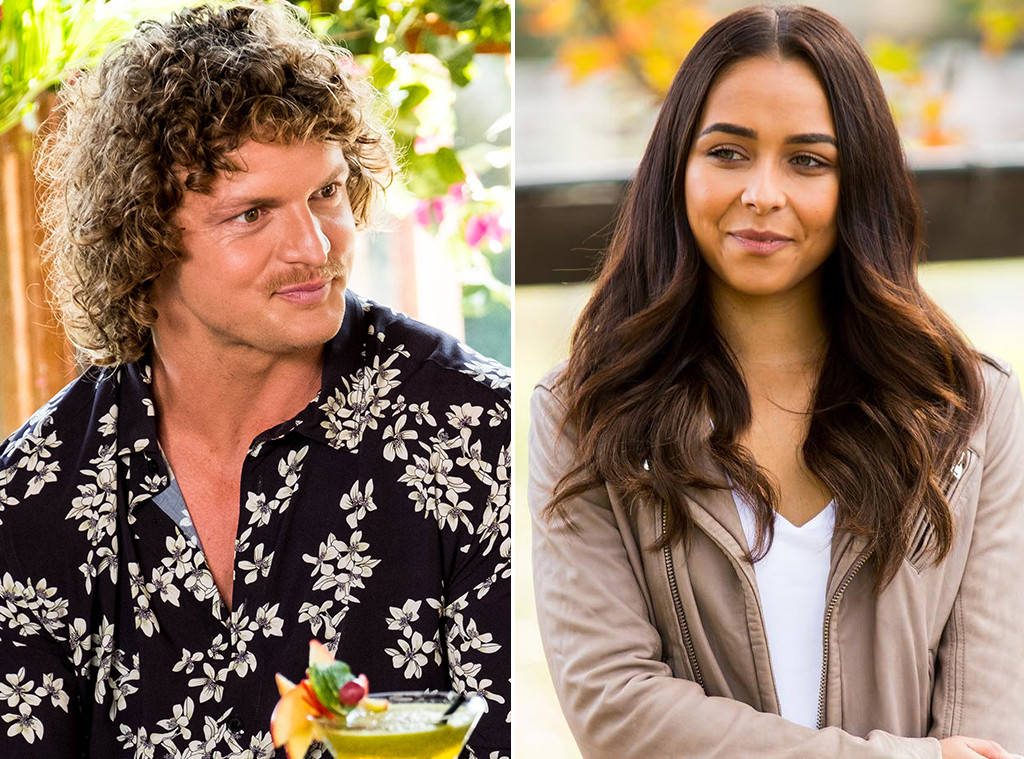 Ten
He said, she said, she said?
On Tuesday's Bachelor in Paradise Australia premiere, Brooke Blurton revealed her big secret about "Honey Badger" Nick Cummins, alleging he covered his mic and gave her a heads up that he'd pick no one on The Bachelor 2018 finale—and asked her to keep it a secret from finalists Brittany Hockley and Sophie Tieman.
But soon after the reveal, Bachie Nation began to speak out.
Taking to Instagram while the episode was airing, Nick posted a scenic video of himself riding a horse through the bush.
"Reality may have lost its meaning but don't lose yours. Giddy up!" the 31-year-old rugby union star wrote, adding the hashtag "#bereal".
He then replied to a fan who urged him to "turn off" the comments on his post to avoid backlash.
"Don't hide from life mate, own your decisions," Nick wrote back alongside a shaka emoji.
Meanwhile, The Bachelor's Brittany claimed that Brooke's version of events didn't line up with what she was told.
"Look, I'm sure that what Brooke is saying, she honestly believes," the brunette finalist told Now to Love. "I wasn't there at that time, but I was told something different."
While the Port Macquarie native stressed that she "would personally never go into it, but Soph and I were told something very different," she previously told E! News the version of events Nick had relayed to her. 
"Nick says that it was right up to the last minute that he decided [to send me home]. Maybe it was when I was walking up to him that he decided? Who knows," she said last October. "Unfortunately, we weren't privy to the reason why. That's a question for dearest Nick."
She also told us she would have left season 6 early if she'd known Nick would pick no one in New Caledonia.
"Hands down, I would have been quick smart out the door," she said. "The whole point is to fall in love. If I had that heads up that there was going to be no one, there would have been zero point in staying."
Brooke's paradise reveal wasn't a total shock to eagle-eyed fans. In March, Nick commented under an Instagram promo on the official Paradise account that teased Brooke's secret, essentially confirming what was to come.
"He told her that he was going to pick no one and told her to walk to save her the embarrassment," Bachelor in Paradise season 1 star Leah Costa commented on the post.
To which Nick replied: "Sort of… but it'll be made into big bad 'tv drama'."
Bachelor in Paradise Australia airs Tuesdays to Thursdays at 7.30pm on Ten.