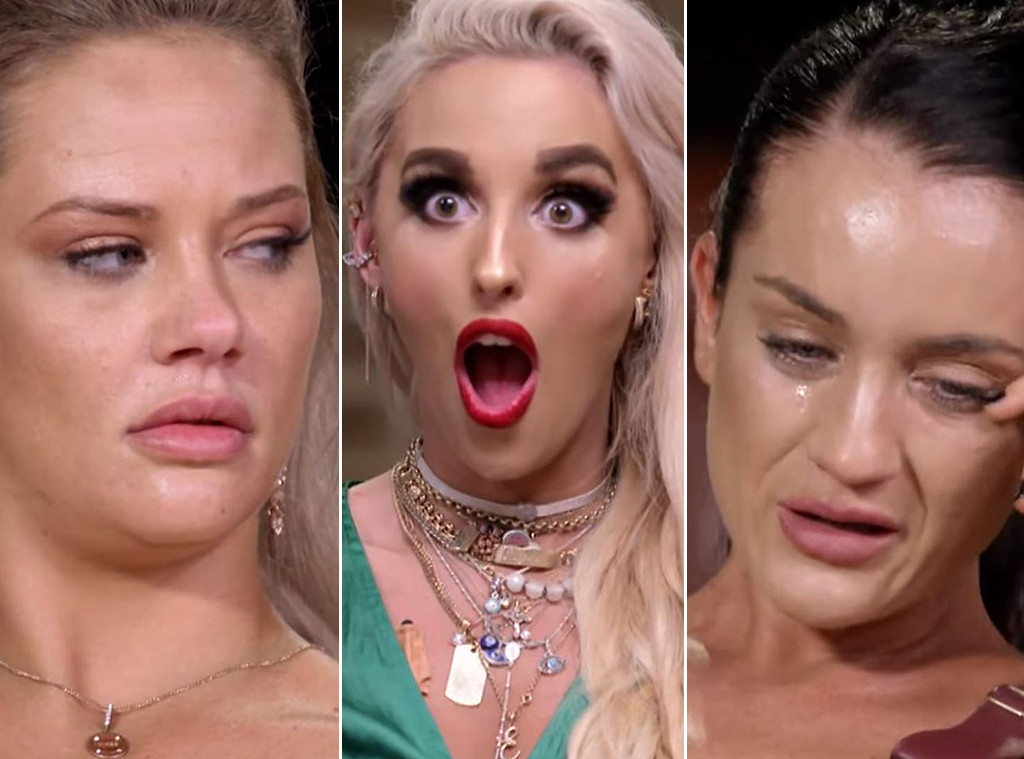 Nine
Married at First Sight Australia is going out with a bang.
Season 6 of the hit reality series will wrap up next week but not before airing the remaining couples' final vow renewal ceremonies and bringing all the participants back for an explosive two-part reunion special.
On the menu: the experts going rogue and showing footage of Jessika flirting with Nic before setting her sights on Dan, Cyrell throwing a full glass of red wine at Martha and the return of Ines.
"I honestly feel like I've been played," Dan can be heard saying after John Aiken pops a clip of Jessika telling Nic she has "feelings" for him on the big screen for all to see.
This week's final dinner party saw tensions come to a head over Jessika and Dan's relationship, with Jules slamming Jessika and Martha's behaviour on the series, chiding, "You've got girls, and you've got women."
Ahead of Sunday night's first vow renewal episode, five couples remain in the experiment: Dan and Jessika, Jules and Cam, Martha and Michael, Heidi and Mike, and Ning and Mark.
And while it's highly likely that fan-favourite couple Jules and Cam will stay together, the teaser suggests there may even be an on-air engagement in the cards.
"Today is about giving you and I the moment that we missed coming into this experiment," Cam tells Jules in the clip, before he appears to get down on one knee.
The reunion special, which airs the following week, was filmed in late January and features the participants all together again—some with entirely new looks!—for the first time since filming wrapped in 2018. 
Married at First Sight airs Sunday at 7pm and Monday and Tuesday at 7:30pm on Nine.
Related:
Married At First Sight Australia: Cast's Showbiz Pasts Revealed