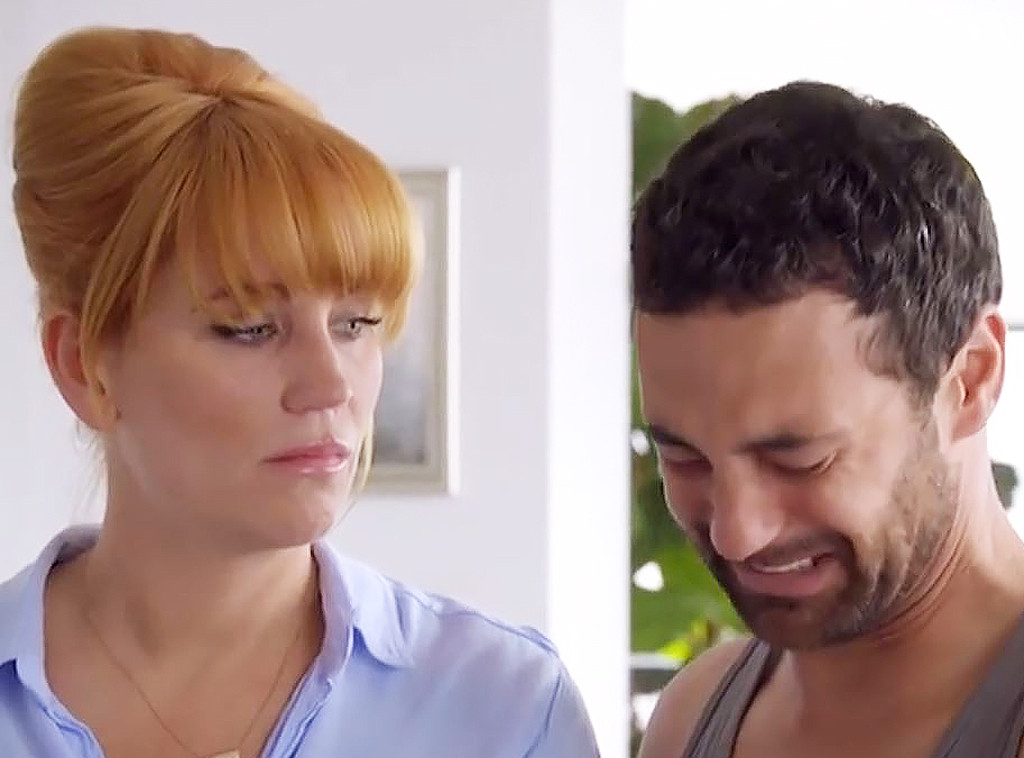 Instagram
The Married at First Sight Australia drama is taking a toll on some contestants—especially Jules and Cam.
To catch you up to speed: last week's fiery dinner party and commitment ceremony saw Jessika clash with Cyrell and Tamara about her intentions with intruder Dan. Plus, Mick was forced to stay in the experiment for yet another week when Jessika decided to remain (just so she could continue her secret hookups with Dan).
On Monday's episode, Cam and Jules both broke down in tears after the "emotionally draining" events.
"I just feel so worn down from all the drama," Jules told the cameras, while her ex-cricketer husband explained, "Jules is my priority, without doubt, so I've got to make sure she's okay."
In a piece to camera, Cam began to explain, "We've probably never even…" before he burst into tears and collapsed into his wife's arms.
Taking to Instagram after the episode, Jules revealed her husband had experienced a tough week of filming, coupled with some "sad news" about one of the kids he mentors.
"I'm absolutely saddened and angry at all the trolling done tonight regarding my husband showing his emotions. Honestly I truly believe that it is a sign of strength in a man to be able to cry," she shared. "[I]t wasn't just the experiment, my husband mentors young kids regarding mental health and he had some very VERY sad news. It was a build up of so Many things. Im proud of my husband. It's ok for men to cry."
In a separate Instagram post on Monday, Cam attributed to his breakdown to pressure in the MAFS experiment and in the outside world.
"I have been strong throughout, for my wife, my friends & for others but sometimes certain circumstances both within the experiment & outside life takes a small toll & we fall.. that's ok," he shared. "No matter what we are all going through, stay strong, keep smiling, be kind to one another & the show will go on!"
In an interview with 9Honey Celebrity, Cam shed further light on the upsetting events, explaining a teenager in the mental health program he helps run in Sydney had considered taking his own life.
"We'd just run one that day, and we had a young boy, was only 15 years of age, and he put his hand and said, 'I just want to let everyone know, I feel like I'm in a safe place—last night I tried to take my own life.' And it was huge," he said. "So you're talking about all these different components—in our lives, in my life, inside and outside the experiment—and that morning… That commitment ceremony was heavy."
Cam also revealed that Jessika's concerns about her own mental health on the show rattled him.
"She said she felt mental health was the reason why she couldn't leave the experiment, because she didn't want her parents to see her like that," he told 9Honey Celebrity.  
Despite the emotionally draining week, there was still a silver lining for Jules and Cam: the pair decided they will both live in Jules' Sydney home when the experiment ends, proving once again why they're everyone's favourite MAFS couple. 
If you or someone you know needs help, please call the National Suicide Prevention Lifeline at 1-800-273-TALK (8255).