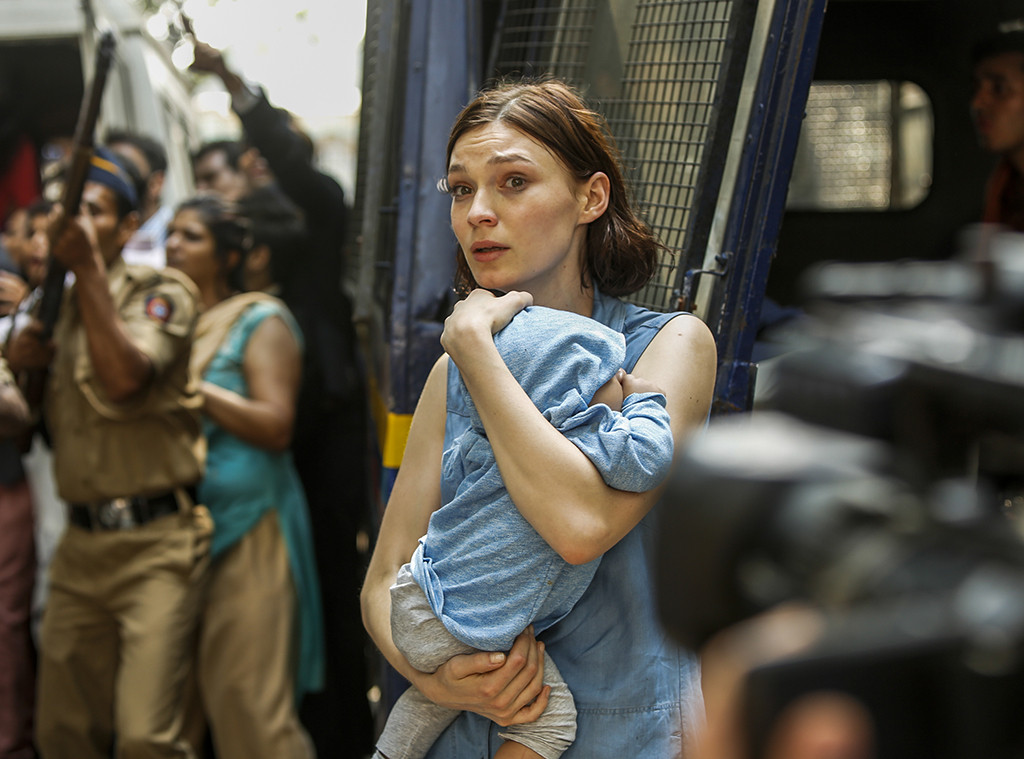 Kerry Monteen
Australian actress Tilda Cobham-Hervey's latest project Hotel Mumbai is a harrowing but important film to watch.
Based on true events and starring Dev Patel and Armie Hammer, the nail-biting drama follows the guests and staff at the Taj Mahal Palace Hotel during Mumbai's 2008 terrorist attacks. Cobham-Hervey plays a nanny tasked with looking after the newborn baby of a wealthy couple during the violent siege.   
The South Australian native tells E! News she felt a "bit bad" making her parents sit through the haunting film for the first time at the Adelaide Film Festival in October.
"I did feel a little bit guilty afterwards," she says over the phone from LA. "I don't think anyone can come out of the film and not be a little shattered. My poor mother! My 14-year-old brother came too. But we had some amazing conversations after the film."
Ahead of Hotel Mumbai's release, E! News caught up with the 24-year-old to chat about her time in India, working with Patel (who she's reportedly dating) and why the film is a must-watch.
Why is Hotel Mumbai such an important story to tell in 2019?
Even though it was something that happened in 2008 and it's focused around a really horrific event, it also shows some amazing stories of human resilience and the coming together of people. It's about what we can do when we unite instead of pushing each other away and focusing on our differences. 
In the film, your character Sally spends a lot of time hiding in a hotel room with a newborn. Did you have younger relatives or friends with babies to practice with?
I did call a few people and was like, can I hang out with your child? That was a lot of fun.
Working with children was the best part of the job for me, and also a hard part. They force you to be in the moment, which is so beautiful, but you also feel the responsibility of looking after a child. Sometimes you might be crying and they'll be laughing, or the other way around. You couldn't have just one child [in the role] so we had a rotating beautiful cast of babies.
Were your days filming in India and South Australia emotionally draining?
They were. We all made a very good effort at separating ourselves at the end of the day. We'd all go out for dinner and do really normal, human things. But during the day, even though you're pretending those moments, there's a big part of you that has to place yourself there, particularly because my character is working with a child for most of the time.
What was your favourite moment hanging out with the cast?
There were so many! Especially in Adelaide, because that's where I grew up. I'm a real dork and I love adventures, so I made sure that when everyone got to town I had a little itinerary of all the places they should visit. It was nice to be able to show people Australian food. And I made them all do wine tastings in McLaren Vale.
India was extraordinary too. I love Indian food so I was down to eat everything. We had some amazing experiences there. I think it was the people—they were all so gorgeous and smart and talented. We still are very close today, and I don't think that happens in a lot of films.
What did you learn about acting from Dev Patel and Armie Hammer?
Because it was such an ensemble, I had the time to watch how so many people approached their roles. The integrity and the passion they all have for their craft is just amazing to be around.
In your upcoming film, I Am Woman, you play singer Helen Reddy alongside Aussie actor Danielle Macdonald. What was it like working with Danielle?
She's an extraordinary human. I love her work. I remember I first saw Patti Cake$ and it was one of my favourite films of the year. When I found out she was going to be in I Am Woman I had such a girl crush. I thought, I'm not going to be able to work with her, I'm not going to be able to look at her without totally fangirling. 
We've also heard you have a background in circus performance. Are we going to see those skills in a film one day?
Oh man! I'd love to get hula hoops into a film, that's my favourite circus trick that I probably still keep. Good party trick. If anyone's got a film out there and they're looking for a hula hooper, then I'm down.
Who would you love to work with next?
I think what Phoebe Waller-Bridge is doing is awesome. I love Miranda July, Wes Anderson, Yorgos Lanthimos. There's too many. I love people who are challenging the form and are making work that really makes you think.
Hotel Mumbai is in cinemas March 14.