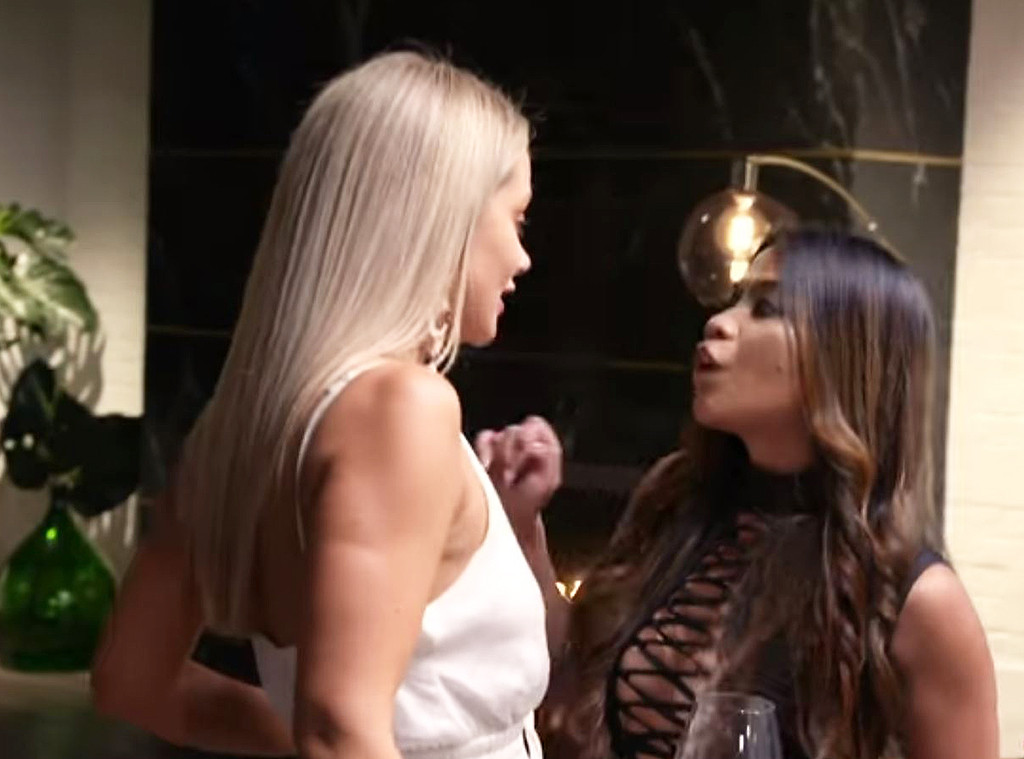 Nine
It wouldn't be a Married at First Sight Australia dinner party without an epic showdown.  
In a trailer for Wednesday's explosive episode, "Cyclone Cyrell" is shown finally confronting Jessika about her feelings for Dan (who is 'married' to Tamara in the experiment).
The confrontation follows Jessika's waning interest in her husband Mick plus her secret kiss with father-of-one Dan at the previous dinner party.
"Do you not want to sleep with Dan?" Cyrell questions Jessika in the clip, with the Perth administration officer firing back, "No I don't."
But Cyrell doesn't take no for an answer. 
"You just admitted it!" Cyrell screams back. "I'm just going to say it. If there's one person you don't want to lie to that's me...At the last dinner party, Jess said she wanted to sleep with Dan."
In the trailer, Tamara and Jessika also come face-to-face in a heated confrontation.
"How are you feeling towards Dan, like are you happy?" a coy Jessika asks Tamara, with Tamara replying, "Are you asking these questions because you want to make a move on him?"
Snap.
Tamara has good reasons to question Jessika's feelings for Dan.
Last week, exclusive photos published by New Idea showed Jessika kissing and embracing Dan on a Gold Coast beach in February after filming wrapped.
Speaking to Fitzy and Wippa on March 4, Jessika also confirmed she hooked up with the car broker and called him a "good kisser".
"[There's no point] trying to keep the secrecy up now considering there's photographs everywhere," she added.
But as to whether the pair are still together, Jessika teased: "You'll have to just wait and see it play out."
Married at First Sight Australia airs Sunday at 7pm and Monday to Wednesday at 7.30pm on Nine.
Related:
Married At First Sight Australia: Cast's Showbiz Pasts Revealed