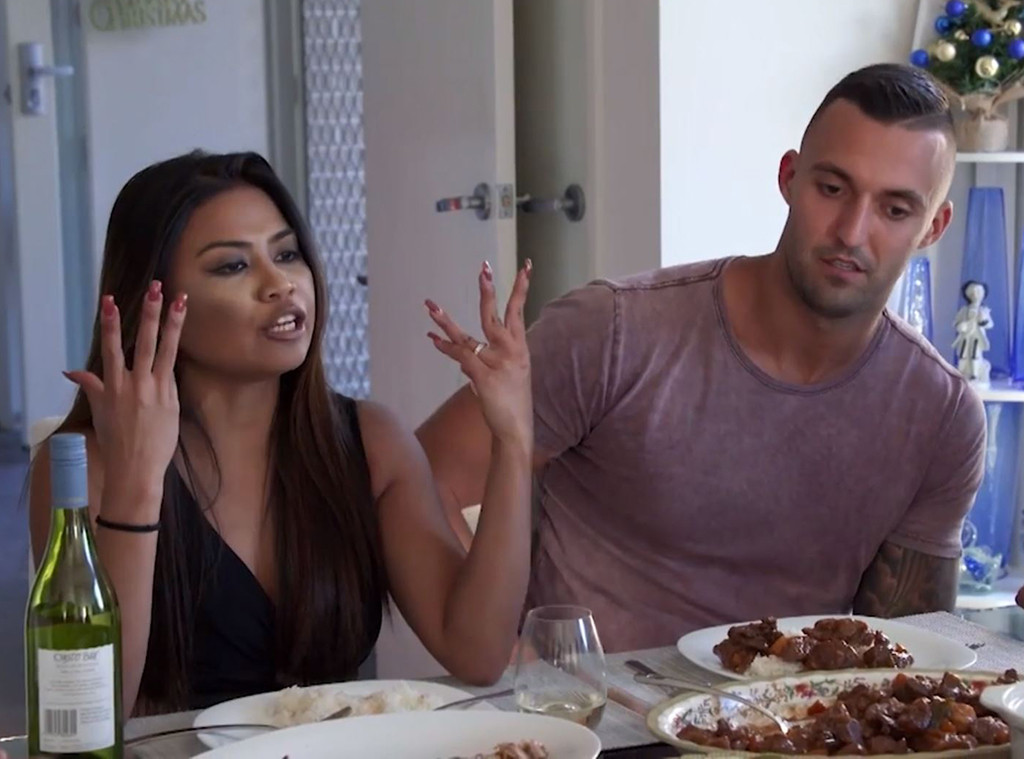 Nine
Married at First Sight Australia's most protective big brother Ivan is back.
Cyrell's brother made his MAFS debut in the iconic "don't swear in front of the food" episode and returned on Monday to give Nic some savage advice during their homestay visit.
After lvan heard about Nic reportedly flirting with Jessika at a dinner party, he sat down with the electrician for a chat interrogation.  
"I just pulled you aside because I really want to know what your intentions are with Cyrell," Ivan told Nic, 27. 
And while Nic explained that his marriage was in a "better place", Ivan didn't buy any of it and instead issued a warning. 
"My sister doesn't deserve this. Stay the f--k away from her. I don't want you to have [anything] to do with my sister," he said. "Grab your s--t and pretty much just f--k off."
According to Ivan, Cyrell has no choice but to stick to his orders. "It's my way or the highway, and she's definitely going to have to agree to it," he declared to the cameras.
Understandably, Nic wasn't pleased with Ivan's aggressive big brother routine. 
"The way Ivan spoke to me then, I think it's disrespectful," the NSW participant told producers. "Cyrell and I have been in a really good place the last weekend a half. I don't know if it's Ivan's decision. If she wants to stand up for me and defend me, then that's fine. And if not, I'm just going to have to pack my bags and get out of here."
It's not the first time Ivan has shared his distaste for Nic and Cyrell's marriage. 
"The way I see things with the both of you, I think it's best you guys go separate ways," Ivan told the pair during their homestay lunch. "It's not working now [and] it's not going to work any time soon."
In episode 1, he also threatened to object to their MAFS nuptials and confronted Nic at the wedding. 
"You hurt her, I'll be here standing in front of your face and tell you what the f--k is happening," Ivan threatened at the time. "I've seen my sister brokenhearted too many times, Nicholas."
Married at First Sight Australia airs Sunday at 7pm and Monday to Wednesday at 7.30pm on Nine.
Related:
Married At First Sight Australia: Cast's Showbiz Pasts Revealed