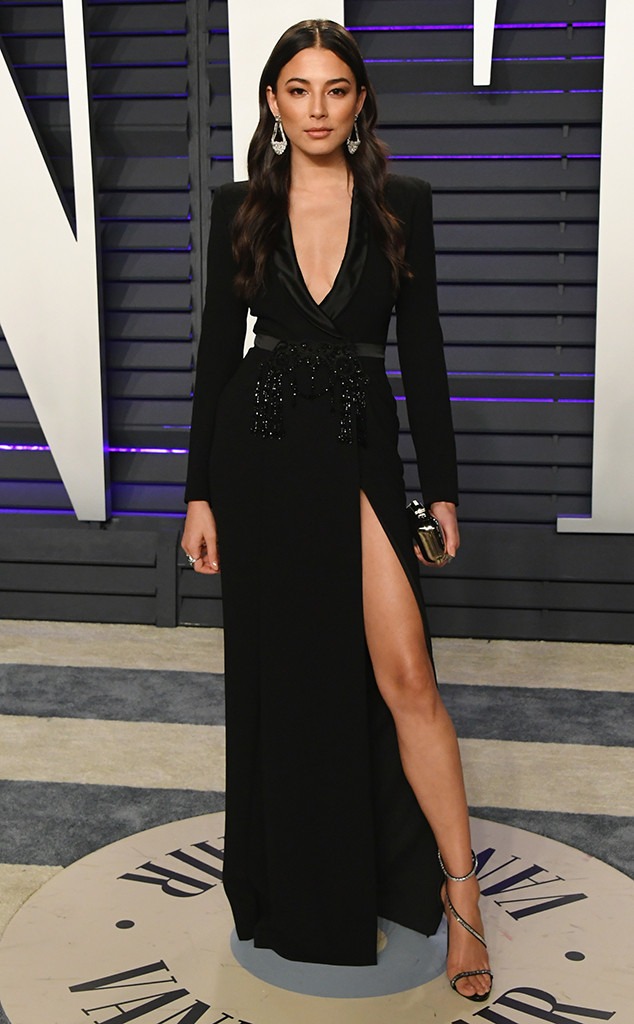 Jon Kopaloff/WireImage
Jessica Gomes is one busy woman.
After hitting the Vanity Fair Oscar party this week (complete with an In-N-Out Burger), the supermodel is back in Australia for Virgin Australia Melbourne Fashion Festival's Gala Runway, presented by David Jones.
"I just flew in this morning to Melbourne, which is always lovely after being in cold LA," the 34-year-old tells E! News. "It's been a busy start to the year."
We caught up with the Aussie model to talk all things VAMFF, her latest film role and the style trend she's loving right now.
There seems to be an increased push in the modelling scene and in Hollywood for diversity in casting. How important is that to you?
It's important to me because I feel like I represent diversity. I'm half Chinese, half Portuguese. I feel more embraced now in my career than ever before because of that change in climate. It's wonderful that we are opening our eyes up to different things, and it's not just one certain way. It's fantastic and very relevant now, especially with the Oscars just passed. We really are focused on creating a diverse palette.
Speaking of the Oscars, you looked incredible at the Vanity Fair Oscar party. Do you get starstruck at an event like that, or do you play it cool?
I get a little excited! I wouldn't say starstruck. There were so many people in that room that I admire who are such artists that paved the way. Jennifer Lopez, Glenn Close and so many great directors. You see all these amazing people that you grew up watching on screen. It was a pinch-me moment where I was like, wow, I can't believe I'm in this room with all these incredible people.
Now you're back in Australia and VAMFF is just around the corner!
We are here to open VAMFF, which is amazing because David Jones has been doing this for 11 years. It's always exciting to come back and kick it off. VAMFF is one of my favourite shows. I love it because it's all for the consumers and I find Melburnians are really excited about fashion. I love the atmosphere at the Royal Exhibition Centre—it's always a lot of fun for me.
Who are some of your favourite up-and-coming Aussie designers?
I love Aje, who joined DJs more than a year ago. I really love their unique designs. One of my favourite Melburnian designers is Viktoria & Woods. Their stuff is really cool and it reflects that Melbourne lifestyle. There's also lots of great accessory designers that I love. Reliquia is really cool, which now stocks at DJs. In this [VAMFF] show we're going to be showcasing a lot of international and local designers.
What's one big style trend you're loving at the moment?
The way that I dress is for sure classic and timeless, but obviously I love to have a little bit of a trend swept into my wardrobe every season. One of them at the moment is definitely suiting. I'm loving an oversized blazer. Camilla and Marc do some great, unique blazers at the moment. I've got a beautiful grey tweed one which opens up at the sleeve as a little point of difference. It's really cool.
What beauty prep have you been doing in the lead up to VAMFF? Face masks and drinking lots of water?
Oh my god, yes! I'm drinking lots of water, doing a lot of my own Equal Beauty masks. I'm going to get a facial at Melanie Grant skincare. Obviously living a healthy lifestyle, too. That's key for me.
You recently shared an Instagram pic from the set of the Netflix film Tigertail—was that an exciting project to be a part of?
Yes! With Alan Yang [Master of None co-creator] and John Cho [Searching]. It's a Netflix film that Alan wrote about his life and I play his girlfriend. 
I saw them at the Oscars at the WME party, my little Asian family. [Alan] is doing so many amazing things and I love that I get to be a part of that Asian community. All the Crazy Rich Asians cast were there at the Oscars too, which was super fun to see. There were moments where I wanted to say something to them, but then I was like, maybe not. I wanted to be like, I love you! Hi!