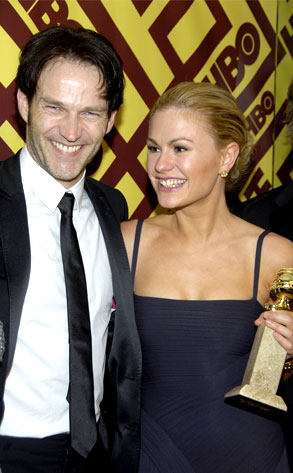 AP Photo/Dan Steinberg
Anna Paquin earned a best actress Golden Globe for playing Sookie, a telepathic Louisiana waitress who falls in love with local vampire Bill (Stephen Moyer) in HBO's True Blood. But Bill and Sookie's crazy-hot passion is no act!
Like the vampires who "came out of the coffin" thanks to True Blood, Paquin and Moyer confirmed to TV Guide that they've been secretly dating—since auditions began for their show! They kept their romance, er, underground because they didn't want to upset the cast and crew.
The show's been picked up for a second season, which means more Bill and Sookie nooky to come. In the meantime, the acting couple have plenty of time to rehearse their roles in the home they share in L.A.
See which other small-screen sweethearts kept rolling when the cameras stopped in our Kissing Costars photo gallery! (If we've left out any lovebirds, let us know in the comments.)