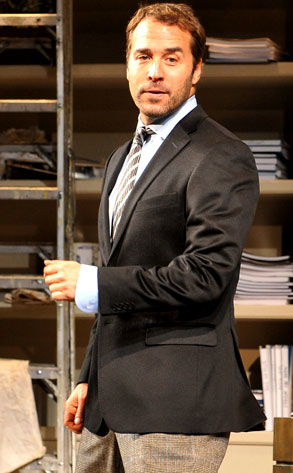 Slaven Vlasic/Getty Images
Hey, I'm not pissed this morning (for a change), but some of Jeremy Piven's old colleagues sure are!
But first, it really is the court date not to miss (next to Britney Spears's latest whatever) when mercury-poisoned midget man Piven goes up against his former Broadway employers for pulling out of the production. When we originally broke that Pivster perhaps left the David Mamet production of Speed-the-Plow for reasons that may have sounded fishy but had nothing to do with fish, his colleagues complained in unison about what an "arrogant diva" he was. And now that Piven's court appointment is in the news, so too are some of his other colleagues' past opinions of the diminutive Entourage star: "His ego is way out of proportion, bordering on the unkind," bitched a Tony-award winning thespian who worked with J.P. recently. "He's a real pig."
And when another star who just finished a gig with Piven learned I had some juice on Jeremy a few weeks back, he said: "Glad to know you are getting some ink out of that pig. I did two small projects with him and really loathed him both times." Pig? Again? What are you, a total swine, Piven?
Uh, Jermey, WTF? You're not that cute (or talented). Even Russell Crowe gets better press than this.