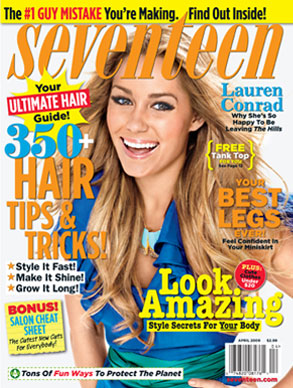 Seventeen Magazine
After yesterday's seriously dramatic trailer, we suspected that the upcoming season of The Hills was its last, and now Lauren Conrad confirms she's out of there after this season.
She explains to Seventeen: "My biggest thing with the show was that I wanted to walk away from it while it's still a great thing. I always want to remember it that way. I gave MTV a deadline and said, "This is as long as I can do it and stay sane.' "
While the show hasn't exactly been great for at least a season and a half, Speidi's fake marriage nonsense put it into straight-up ridiculous territory. So it's probably not the high point Lauren would like to believe she's leaving at, but we'll take it—if she's forreal, that is. Back at the beginning of the fourth season, she told EW, "Every season, I think it's the last. Right now, I think this is the last season."
So is she messing with us again, or will she finally put The Hills out of its misery? And what if she leaves and we're stuck with the Heidi and Spencer show? In which case, does anybody really win?