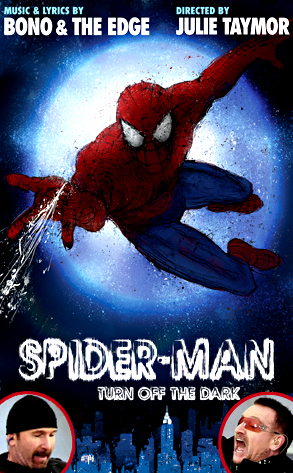 Courtesy Spider-Man, Turn Off the Dark; Mark Wilson/ Getty Images
Broadway's Spidey senses are tingling.
Spider-Man: Turn Off the Dark, the hyped stage musical directed by Julie Taymor (The Lion King) with music and lyrics courtesy of U2's Bono and The Edge, will kick off what its producers hope will be an amazing run along the Great White Way beginning with previews on Jan. 16, 2010, and a Feb. 18, 2010, opening night.
The $40 million effort, reportedly the most expensive Broadway production ever, will make its debut in the Hilton Theatre, the only venue big enough to allow the superhero room to spin his way around the sprawling skyscraper sets while duking it out with various bad guys.