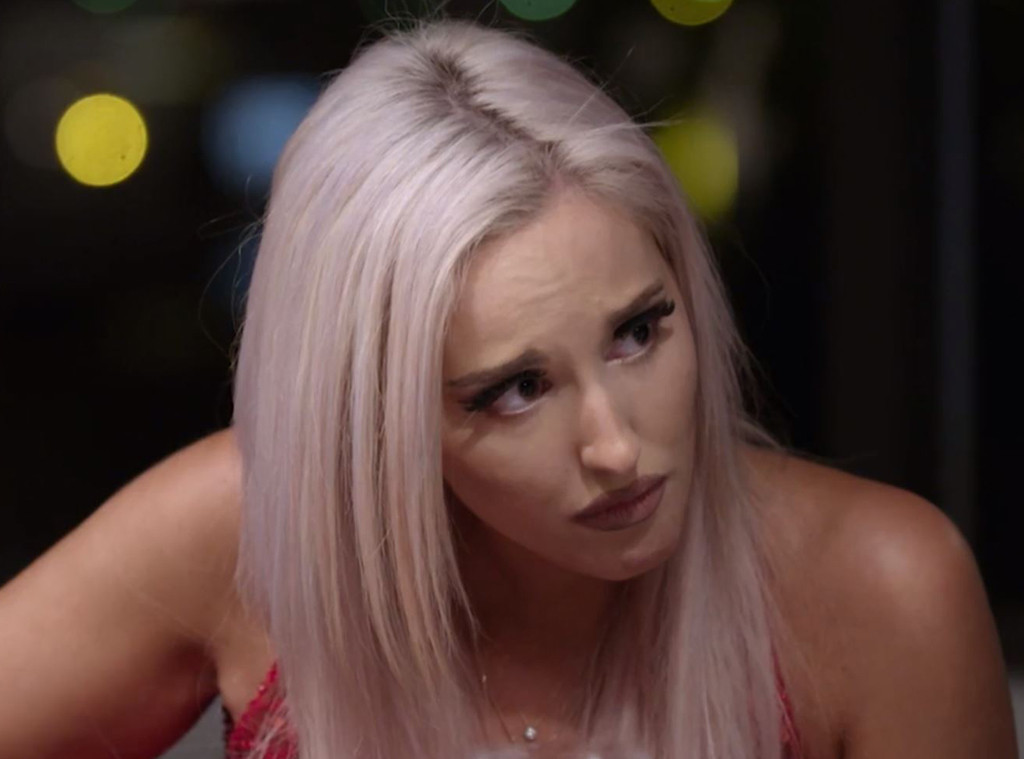 Nine
Instead of jetting off to Fiji, Thailand or the Whitsundays for her honeymoon, Married at First Sight Australia's Elizabeth spent a week alone in her hotel room after her husband Sam left for a funeral.
Sam had announced he needed to leave for his ex-girlfriend's mother's funeral in New Zealand after the wedding, but didn't bother to reach out to his new wife the entire time he was gone.
The pair were finally reunited at the first MAFS group dinner party in episode 8—and it didn't go smoothly.
"Honey, I'm home," Sam announced at the dinner, kissing his shocked wife on the cheek. 27-year-old Elizabeth was having none of it and sent a death stare his way. "I'm seeing daggers," Sam observed. Yep.
Things turned sour after Elizabeth revealed to the group that Sam ignored the voicemail she left, and he played the 'I don't have a voicemail' card.
Lizzie, however, had the receipts and called his number...which went straight to Sam's voicemail. Checkmate.
Things turned nastier when Elizabeth tried to articulate why she was upset, but Sam disregarded her feelings.
Store manager Elizabeth recounted, "The was no contact, there was nothing," only for him to fire back, "You're so mad, why are you so angry?"
Outside of the dinner party, she told producers, "I'm feeling really hurt, and I'm feeling really confused about the situation and honestly I feel like there's no respect toward me."
Even the experts realised things had turned toxic for the couple.
"Is he really not aware?" expert Mel Schilling questioned. "I'm absolutely dumbfounded that he can be sitting there eating his meal, completely unaware of the impact."
Some fans accused Sam of gaslighting Elizabeth—and making her feel irrational and out of control.
When she reasoned, "Dude, do you know what I've had to go through?" he retorted, "Would you like a drink? Oh, that's right, you don't drink."
Other choice quotes from Sam?
"You're so angry. You should relax. Just breathe. No need to be angry." And: "You're carrying on a bit."'
Besides the Lizzie-Sam saga, plenty of other drama went down at the dinner party. The men grilled Matt about losing his virginity, Jessika clashed with Mike and Mick, and Ines continued to berate husband Bronson (and try to make group sex a thing).
The Married at First Sight drama continues Sunday at 7.00pm on Nine.