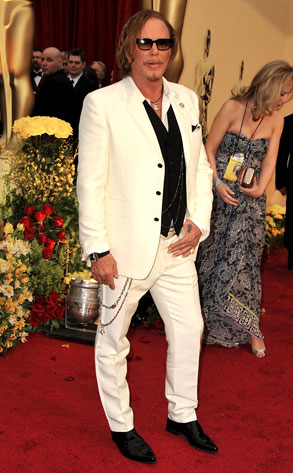 Steve Granitz/Getty Images
"I said to myself, 'I would rather have Loki for another two years than have an Oscar,' and I told her that, you know. But she stayed as long as she could."
—Mickey Rourke, still mourning the death six days ago of his beloved dog
"I said to my daughter, 'If I did win the big prize, what do you think I should say?' And she said, 'I just think you should be really crazy and emotional'. I thought, 'You're no good.' "
—Kate Winslet, nominated for her performance in The Reader
"I did a rehearsal and messed it up. I am probably going to be the letdown of the entire show."
—Robert Pattinson, not really getting it
"I've been sitting on one butt cheek the whole ride over here, which is difficult. People don't have a clue what goes into it."
—Heidi Klum, on high fashion
"I thought it was a joke. First of all, how can I play his mother? I'm black. He's white."
—Taraji P. Henson, on being cast at Brad Pitt's mom in The Curious Case of Benjamin Button
"He doesn't speak English. He isn't saying anything."
—One of the little kids from Slumdog Millionaire, translating on behalf of another little kid from Slumdog Millionaire
"She just said, 'Don't let anything affect you; enjoy this is, your moment.' "
—Freida Pinto, relaying advice she received from Angelina Jolie at the SAG Awards
"I just wanted to go 15 rounds with her and still be on my feet. I didn't want to stink."
—Viola Davis, on acting alongside Meryl Streep, the "500-pound gorilla of acting"
"It came together very very quickly, so it's not too demanding, but it is very exciting."
—Zac Efron, doing his best to sell the hell out of...whatever it is he's doing there
"Angelina Jolie—she can adopt me if she wants to."
—Miley Cyrus, when asked by Ryan Seacrest what star she was excited to see tonight
"It's like swimming with dolphins, working with Ron Howard, good for the soul."
—Frost/Nixon actor Michael Sheen
"Someone put a black bag over my head and took me somewhere and hypnotized me. It might have been a rehearsal, but I can't say for sure."
—Kevin Kline, reacting to the cloak-and-dagger secrecy of this year's awards
Stay tuned! We're updating star quotes from the Academy Awards Red Carpet—live!