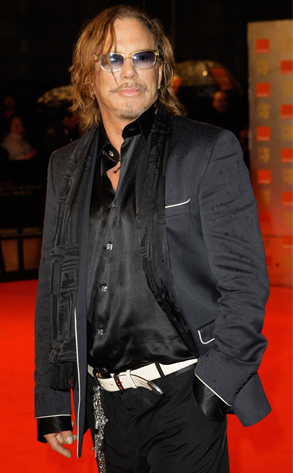 AP Photo/Joel Ryan
Even if Mickey Rourke goes the distance and wins an Oscar tomorrow night, what more can he possibly say?
Not that he'd exactly been holding back at the Golden Globes and the BAFTAs, but the 56-year-old comeback kid outdid himself Saturday while accepting the trophy for Best Male Lead at the 2009 Film Independent's Spirit Awards, where his star vehicle, The Wrestler, won a leading three honors, including Best Feature and Best Cinematography.
Part paean to Eric Roberts ("the f---kin' man"), part elegy for his dog Loki, part ramble and all tailor-made for pay cable, Rourke's speech at the notoriously quirky beachside kudosfest either scared the crap out of the Motion Picture Academy or, as The Wrestler director Darren Aronofsky noted backstage, could prove to be the best possible thing for the Oscar's declining ratings.