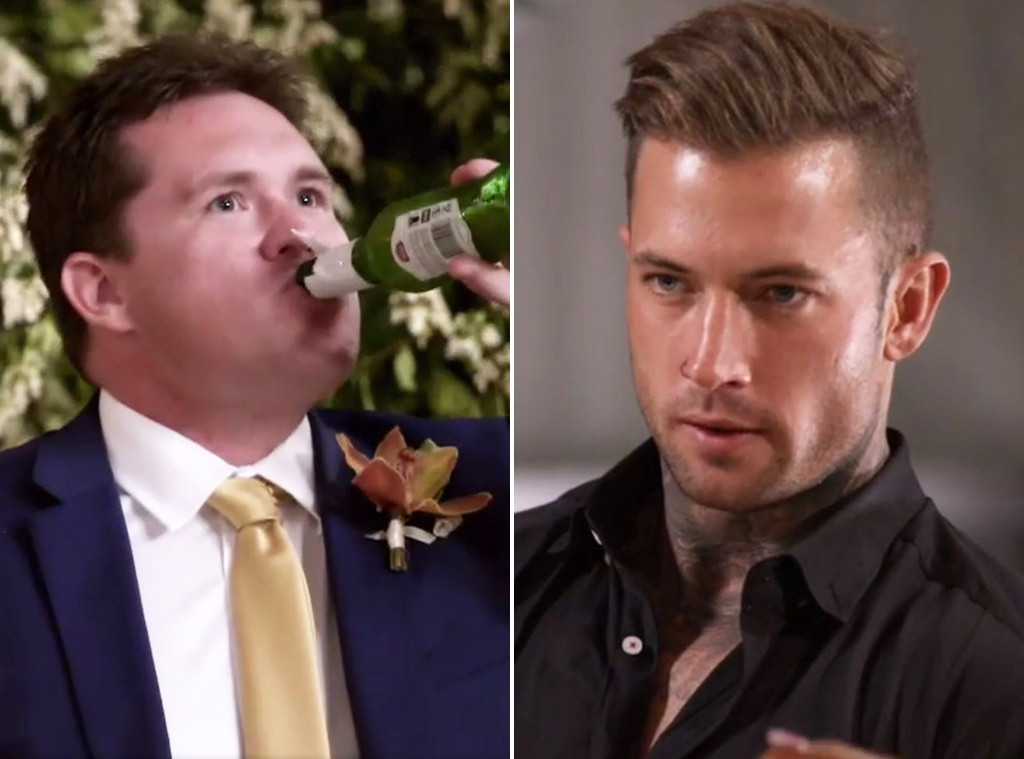 Nine
Jessika and Mick's Married at First Sight Australia wedding was going "perfectly"—until the best man opened his mouth.
The explosive second episode of the Nine reality series saw 27-year-old administration officer Jessika paired with 31-year-old plasterer Mick. And while their Byron Bay ceremony ran according to plan, the reception was a whole other story thanks to best man 'Broxy'. 
As if the nickname wasn't enough of a warning, Mick admitted his best man was notorious for not having "much of a filter".
Broxy lived up to expectations when he was seen chugging a glass of white wine and a beer seconds before his speech.
"I'll tell you a bit of a story about [Mick]," he began his address. "We went up to Airlie Beach..."
The camera then cut to a very worried looking Mick instructing his beloved new bride to "shut your ears". We wish we has tuned out too.
"We drunk the whole bar dry, just me and him," Broxy continued. "We were having a good time, and Mick's gone to me, I'm going to take some Viagra. So he's taken the Viagra, just as a bit of a gee up. Mick's...raring at everything he bloody can, but nothing's come at him."
Halfway through the speech, Jessika's family—especially her former pro boxer father Troy and big brother Rhyce—looked ready to take a swing at the best man.
But Broxy persisted none the wiser.
"Obviously, the Viagra's worked," he told the crowd. "And I'm asleep, I've woken up and I can hear some noises. Open me eyes, he's made himself a bloody tent over himself and he's having a go."
And, if you believe Broxy, this happened "at least five" times.
Obviously, no one in the reception hall was pleased, with Mick calling out, "you prick".
Big bro Rhyce thought the speech "was disgusting", while Jessika made it clear it wasn't "the best speech to tell at a wedding."
As for dad Troy? "I just think it was total f--king bulshit," he fumed.
"I was a professional boxer. That was my job," he continued outside of the hall. "To fly around Australia and punch people in the head. That was my job. So don't think I'll back away from that f--king sheep farmer."
MAFS fans were also quick to condemn the best man's speech on Twitter: 
And while the best man speech wasn't a hit, Jessika's brother was, with many viewers frothing over his baby blue eyes and tatts. 
Episode 2 also saw 38-year-old talent agent Melissa paired with 34-year-old Dino. After sleeping in and waking up two hours late—and almost forgetting her wedding dress—Melissa was finally ready to tie the knot to the mediation coach, who arrived at the ceremony atop a white horse (yes, really).
The newlyweds join Cyrell and Nic, and Jules and Cam, who were partnered up in episode 1.
Married at First Sight continues Wednesday, Thursday and Sunday at 7.30pm on Nine.
Related:
Married At First Sight Australia: Cast's Showbiz Pasts Revealed