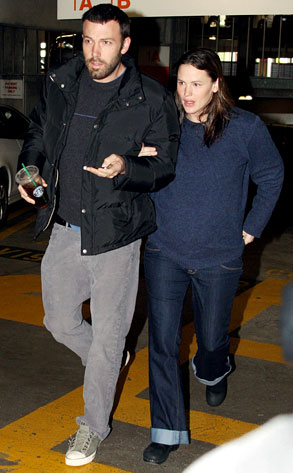 Pedro Andrade,PacificCoastNews.com
Oh, completely forgot to tell you all, can't imagine why: Bennifer II's still finagling the happy charade—and rather beautifully, too.
'Course, Ben Affleck helped host the Children Mending Hearts benefit to support women and children suffering as a result of the fighting over in war-torn Congo this week. Really heavy and gruesome stuff over there—we're glad Ben's taking his new philanthropy gig so seriously, even if it did mean leaving his 9-month-preggers wife to travel there.
But Jen Garner must not be bitter about any of that 'cause she skipped the carpet Wednesday evening and came in through the back to support her beau. So was it a hot 'n' heavy night out for the two lovebirds?
Depends. If you think Jennifer skipping out halfway through and leaving Ben to close down the House of Blues with a table of girls equals a steamy night, then yeah, it was!