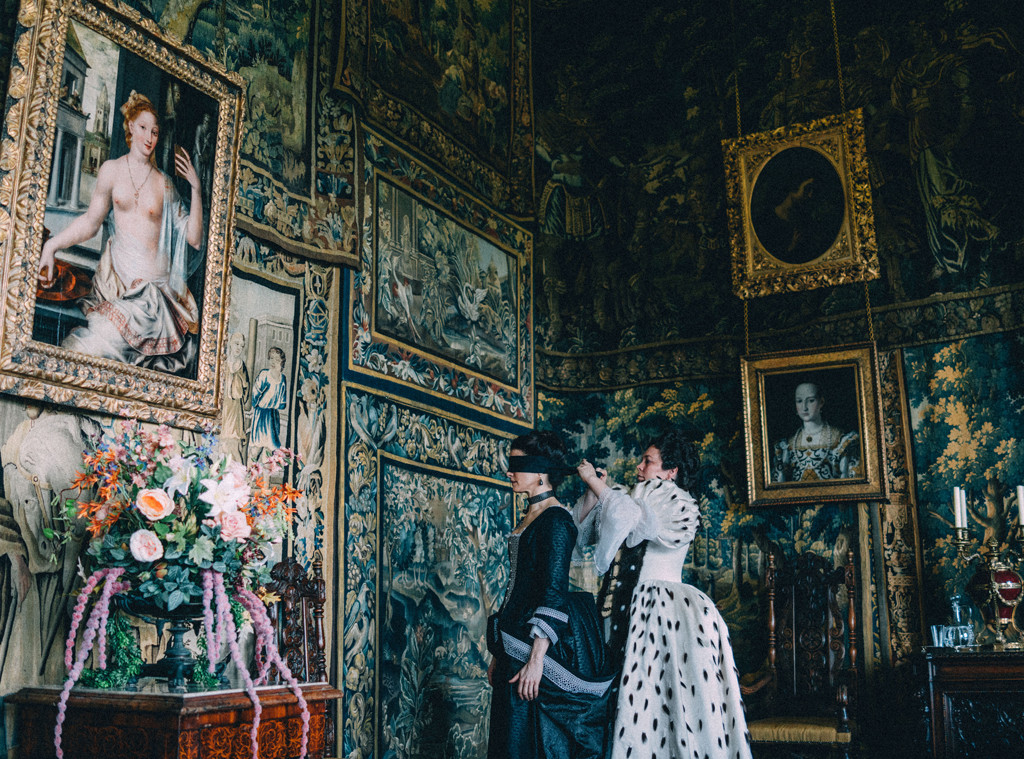 Fox Searchlight
Nicole Kidman, Margot Robbie and Joel Edgerton may have been snubbed by the Academy this year, but Australia isn't going unrepresented at the 2019 Oscars.
The Favourite's production designer Fiona Crombie, as well as scriptwriter Tony McNamara, are both nominated for their work on the film, which received 10 nods in total.
"Normally, it's really glamorous Australians at the Oscars, and somehow it's Tony and me this year," Crombie tells E! News with a laugh. "We think it's pretty funny."
The Adelaide-raised designer is now based in London and teamed up with director Yorgos Lanthimos to create the 18th century world inhabited by Olivia Colman, Emma Stone and Rachel Weisz in The Favourite.
Here, Crombie discusses her nomination and how she helped the film come to life.
Congratulations on your nomination! Did you let yourself dream it might happen?    
You know, I was walking around earlier this week thinking everything is really good. I have a BAFTA nomination. The film is a great success. I'm really satisfied. And then when I did get the Oscar nomination, I realised how much it meant to me. I was with my set decorator [and co-nominee] Alice Felton and we were completely thrilled, laughing and crying. It was like wow, this unbelievable, iconic honour has been given to us. To be nominated for an Oscar, it's incredible.
How did you celebrate?
Yorgos, cinematographer Robbie Ryan, Tony and I met up and had a late dinner, a lot of laughing and some very nice wine. Everyone is thrilled. For Yorgos, this is his third nomination, but his first for directing. And Tony and I go back a really long way, so we were just sitting next to each other saying it's just amazing this is happening. It's fun. They're such a great bunch of people to share it with.
Have you given any thought to what you'll wear?
I've got a very good friend of mine who's a costume designer, Alice Babidge, and I'm enlisting her talents to help me sort myself out. I think I just want to be comfortable. I mean, I say that, but I'm not going to go in sweatpants. My panic is booking hair and makeup because apparently you have to book straight away, and that's where I really need help.
Where do you begin designing on a film like The Favourite?
We had to find a location that went part of the way to telling us the story. It gave us the scale and the real spaces we could use, and then we were able to use our budget toward modifying them and bringing them into the story. Finding those spaces in England is not necessarily easy because these are very protected buildings. One of the big things for us is that we lit thousands of candles, and having candles burning in these buildings that are really protected was a difficult thing. So we had to find a location that allowed us to tell the story we wanted to tell and had an aesthetic that worked for us, but also let us bend it to the way we wanted it to look. We were lucky that we had Hatfield House [which served as Queen Anne's palace], and they allowed us to do that.
Did you have heritage minders watching your every move?
We did, but we all became friends! In fact, at the cast and crew screening, they were there. They were really part of creating the film and they loved seeing the spaces transformed. They were with us in every room, since we weren't really meant to wander around. We had to be chaperoned because even in the spaces where we weren't working there are these incredible antiquities and artworks.
Which set presented the most challenges?
Definitely the mud bath set. We couldn't find a location that carried the aesthetic that we set up. So, we ended up going to a Victorian kitchen called Danson House, but we transformed that space into the spa. So, we did all of the marble work, and we put in the floor. That, on our budget, was really tricky. We had to be very clever about how we were achieving that. But I'm really glad we did because I think it's such an important story beat, so I'm really glad we fought to have it there.
Do you think previously working on smaller budgets in Australia helped you prepare for that?
Absolutely. I always start with something like an asset list. You work out what you've got going for you at any location, and that might be incredible landscapes and that might be—when I did Macbeth we had woods, so we would constantly be using the woods and taking beautiful bits of leaves and things and putting them into the sets as decoration. You always try to find ways to take advantage of what you have. I think that is coming from working on low-budget films in Australia and having to really stretch the budget. The best thing that people can say to me is, Oh wow! I thought that would have been a much higher budget.
Are there any Easter eggs or special set touches viewers might not have noticed?
The eagle-eyed spotter will notice that we used octagonal shapes all the time. Like when the man is being pelted with blood oranges, he's on a little octagonal stage. There's lots of repetition of certain shapes throughout. Diamonds are there in the floor and in carving, things like that. We also had a lot of fun with the rabbit cages. We created a little doll-house, miniature world for the rabbits. So they have little silver bowls and little jugs, and we had micro-herbs and little carrots and little tiny brushes. If you look for it you know it's there.
We really charted little subtle journeys throughout the film. So, in Abigail's room, it starts where she doesn't even have bedding. By the end of the film, she's got a beautiful blanket. She's got glassware. She's got a silver tray. She's basically procured things as she's made herself comfortable before she's gone upstairs. It's like she's just feathered her nest quietly as she's increased in influence. We did similar things like that with Anne's room and changes in flowers.
Did any of the actors bring ideas to the table in terms of design?
They didn't, but we always do this thing—it's a show-and-tell, basically—usually with the director where you're introducing them to the finer things. It could be pens or paperwork, the things we're going to see up close like character props. We had them all laid up on massive long tables down the length of the golden corridor, and Emma came and looked at all of her pieces and picked them up. The thing that I find with actors is that they often are incredible at receiving things and taking them on. I've had actors who are very involved and have a lot of communication, and other actors will just pick up something in the scene, and it will look like they've been operating it for 20 years. They're remarkable at owning and inhabiting things.
Tony has spoken to E! News about how he and Yorgos weren't too concerned with historical accuracy in terms of script. Were you the same way with production elements?
Immediately when I read the script, I knew that it was playful and there was invention on the page, and therefore I was being invited to participate in that. Just by reading that there are 17 rabbits, I know that I'm being asked to invent a world for those rabbits. The challenge was then to also not make it feel anachronistic to the point where you're taken out of the story or the period begins to feel inauthentic. We tried to keep it subtly inventive, but it all sits together in a particular logic. There's a stylised quality to the look of the film, not only with the lenses but with the palette. Sandy Powell's costumes are monochromatic. Our set decoration is only gold fabric. It's a very, very tight palette, and I think that gives you a stylised twist. It's not naturalistic.
Even the wheelchair—there were no wheelchairs. And the wheelchair is such a big part of the story, but it was too early for wheelchairs. Also, I didn't know that birthday cakes didn't exist yet, and then Katherine who does our food told me, 'Just so you know this wouldn't have been here, and you're asking me to break the rules.' So I told Yorgos, and he believed the story beat was more important. It's the same with the wheelchair—the momentum, the movement, who's pushing her, the whole narrative of her illness and how she relies on others. All of those things are far more important than the fact that a wheelchair wouldn't have technically been there until 50 years later.
Did you take anything from set as a memento?                                                                                  
We had all of our glass handmade for the film, and my team had a set made for me. So now I have beautiful hand-blown glassware, which is etched on the bottom. Occasionally, it's brought out and handled delicately with a little bit of champagne. It's not for the dishwasher!
You also worked on the upcoming film The King with Timothee Chalamet and Robert Pattinson. How did that project differ from The Favourite?
It's a much bigger film. The thing that was lovely about The Favourite is that it was very contained. We were London based, and in a particular little orbit. So, we were up in Hatfield House for weeks and weeks. I had construction on site and all my props and decoration. We effectively made it a home. The King was the opposite. We shot all over the United Kingdom and were just driving and driving. We were really, really moving a lot around the country. I built a set in Wales. We shot the exteriors and battle sequences in Hungary. It was a bigger machine of a film. I built enormous sets in Budapest. From what I've seen, it looks really beautiful and the performances look incredible.
Do you have any plans to return to Australian productions?
I would love to. At the moment, my family and I are on a visa and living in London. I've been approached about some beautiful projects that I would love to do in Australia and New Zealand, but sadly the distance makes it so hard. I've got two children and it's just not viable for me at the moment. This whole Oscar business has actually been a really moving experience because I've just had the most phenomenal messages from people in Australia, and I miss all those guys.