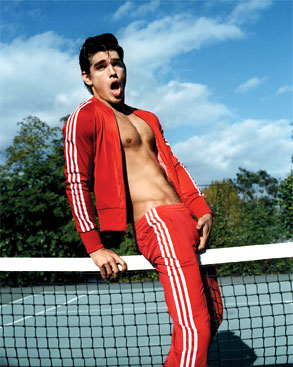 VMAN Magazine
This is Miley Cyrus' manfriend, Justin Gaston (aka the "really great Christian guy") in the spring issue of VMAN. In the photo spread, called "Meet Mr. Miley," he most certainly shows us all of Mr. Miley.
The 20-year-old underwear model/wannabe country star tells the magazine he "looks up" to his partner-in-chastity, Hannah Montana. "It's nice to have someone there who already knows what's going on. It helps you plan your next steps," he says.
This is about the time Miley interupts his interview to quote some Scripture and reveal her future plans—"My goal is to become one of the most-wanted producers of 2010"—just in case Gaston had started to think this thing was supposed to be about him. Because it's not. It's always about Miley.