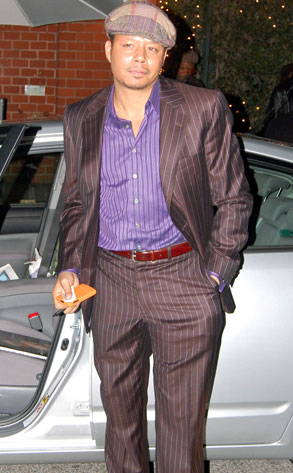 Darren/Fame Pictures
Chris Brown might not want Terrence Howard in his peanut gallery.
Police and court records show that the Hustle & Flow star, who backtracked last week on initially supportive remarks he made about Brown's situation, was arrested in 2001 in Pennsylvania on suspicion of assaulting his wife, Lori McCommas.
When confronted by police, he confessed to hitting her, according to documents obtained by The Smoking Gun.
The duo had been estranged for more than two years when Howard, fuming after a contentious phone conversation, broke down the front door of McCommas' house, states a Whitemarsh Police Department report dated Sept. 17, 2001.
Per the report, Howard told McCommas at the end of their argument, "Don't disrespect me by hanging up on me or I'll come over and hurt you." She called 911 and, while she was talking to the dispatcher, Howard arrived and tried to get in.
He "broke the front door down and ran through the screen door in the kitchen. Howard then grabbed the victim's left arm and punched her twice with a closed fist in the left side of the face," the report states.