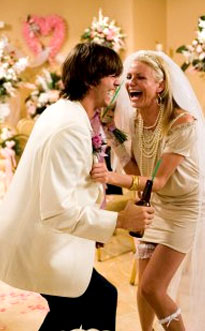 20th Century Fox
Cameron Diaz isn't ready for her next close-up.
Still mourning the death of her father, the actress has dropped out of this weekend's press junket for her upcoming comedy What Happens in Vegas.
Diaz, 35, had been scheduled to join costars Ashton Kutcher and Rob Corddry in a series of media interviews for the comedy, about a pair of combative strangers who wind up married, and in possession of a huge jackpot, after a wild night on the Strip.
No word yet on whether Diaz will attend the May 1 premiere in Los Angeles. Right now, 20th Century Fox is going ahead with plans to have two groups of fans, a Team Ashton and Team Cameron, competing at the red-carpet event, with the group that shouts the loudest gaining admission to the screening. Diaz was a no-show at the film's London premiere earlier this week.
Aside from greeting family and friends, including former boyfriends Justin Timberlake and John Mayer, at a memorial last Sunday, Diaz has largely been holed up at the family home in Seal Beach, Calif., since the April 15 death of father Emilio.
What Happens in Vegas comes out May 9.