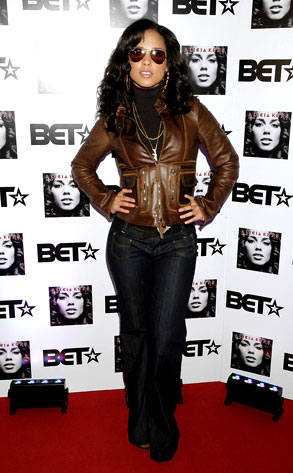 Simon James/WireImage.com
50 Cent is no stranger to drama. And living up to his hardheaded rep, the former drug dealer stirs things up once again—this time with Alicia Keys.
Alicia recently defended her gansta rap quotes in Blender magazine, but apparently the explanation was not enough for Fiddy, who had some major dissing to do.
"I don't like Alicia Keys no more...If she thinks what they consider [to be] gangsta music is [made] to bring black people down, then I think my s--t falls into that category. I don't like people who don't like me."
And from the sound of it, the rapper isn't a fan of her music, either.
"I don't think that [her] classical s--t is cool. I don't give a f--k if you can classically play the piano. I haven't been classically trained, because my upbringing, nobody put me in front of a piano at that time...I could f--king care less about the s--t. So she don't like the music that embodies the harsh realities because they're not her realities. She hasn't been subjected to the same things."
Hmmm...Seems like a pretty safe bet to say that a Beyoncé 'n' Jay-Z-like rapper-R&B star coupling isn't in the works anytime soon for this duo.