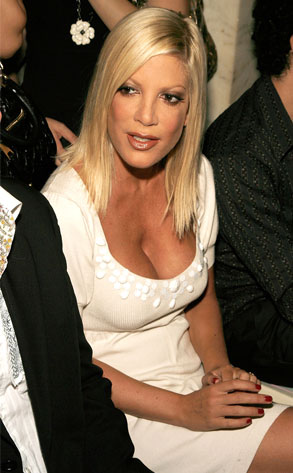 Joe Kohen/WireImage.com
Tori Spelling may have once had the luxury of her late dad's bank account but not anymore. Even so, she sure likes spending big.
Spelling was spotted shopping yesterday at popular celebrity boutique Harmony Lane in Beverly Hills, where she dropped $2,000! She left with her arms full of shopping bags filled with dresses, shirts, clutches, jewelry and even a candle.
But she should be careful. Spelling told ABC's 20/20 just last month that she was once close to bankruptcy because of her buying habits and credit-card debt.
"I never had to worry about money," Spelling said on 20/20. "I know that might sound shallow to people, but that was my reality. You know I would sit and watch my mom order stuff online or in a catalogue, and she'd pick a sweater and order it in 10 different colors. And I thought, 'Oh, when I have my own money, that's what I should do.' After a while, it catches up with you."
Spelling famously got shafted in billionaire father Aaron Spelling's will, receiving less than $1 million.
—Additional Reporting by Laura Lane