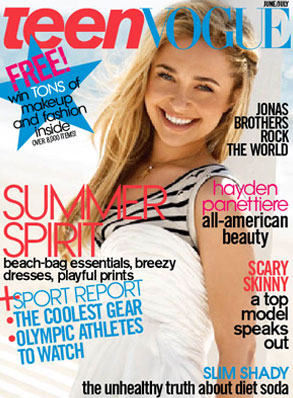 Teen Vogue
Yeah, yeah, we know. By saving the cheerleader, we can save the world.
But the world may need to save Hayden Panettiere from possibly believing she really is the indestructible rah-rah girl she portrays on the boob tube.
In the June issue of Teen Vogue, the Heroes heroine chats about the tabloids and how invasive they can be when it comes to her personal life.
"Nothing is private," she says. "And when they write about you, it's almost completely false."
Of course, when pressed if she's referring to stories about her rumored romance with costar Milo Ventimiglia, the tiny TV titan insists: "I'll not comment until the day I die!"
Um, Hayden, despite what your alter ego Claire is capable of doing, from what we hear, voicing the truth after you've passed on tends to be a wee bit difficult.