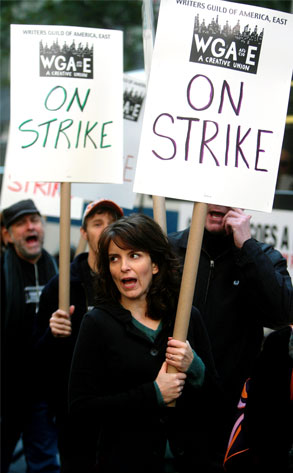 AP Photo/Gary He
Dear AMPTP:
You made Tina angry. What kind of monsters are you? Please fix it.
Love,
Team WWK
Now, your regularly scheduled chat, which addresses your (many) strike-related Q's and much more...
Vee in Milwaukee, Wisconsin: This strike is breaking my heart. Why doesn't the shadowy organization on the other side of the table realize how critical the writers are? I can't see the good in this at all, and I want my stories!
As TV genius Tim Minear said on his fansite when asked about the strike, "Strike. Sigh. I keep telling everyone I want to picket with a blank sign. Hundred of writers with blank signs—says a thing, doesn't it?"

Holly in Kansas City, Kansas: Is there anything the average viewer can do to show support for the writers' strike?
That's a great question, and here are two answers: (1) If you're in SoCal or New York, you could visit the picket lines to show support for the writers. Also, if you are a fan of one particular show or another, and you visit the picket lines, please don't be afraid to wear your I ♥ McDreamy T-shirt or dress up as a Viper pilot, or make a fan picket sign of your own—it would really illustrate how shows connect to audience members. (2) If you're located out of town, you can send a letter to the Alliance of Motion Picture and Television Producers (AMPTP) at 15503 Ventura Boulevard, Encino, CA 91436, letting them know how you feel. Here's a third answer: (3) You tell me: Do you support the writers? Do you have any ideas on other creative ways to show support? If so, post 'em in the Comments below.
Rod in Belo Horizonte, Minas Gerais, Brazil: I believe this is a fair question to ask you (but not the writers). They go on strike, but that doesn't mean they stop writing, does it? They just stop delivering scripts and ideas, but maybe this time could be used to mature ideas and even in the writers' own benefit. Do you know if any of that is true? I don't think any writer would answer that on the record, but...
Bom dia, Rod! They actually have answered, and quite brilliantly, in the Pencils Down Means Pencils Down ad the WGA placed in Variety. You'll note it's signed by everybody who's anybody, not to mention everybody we love.
Duhamelsmine12: Quick question: Are there any TV shows that do not have WGA writers? Or do you have to be a member of the WGA to get a show on air?
Scripted comedies and dramas are created and covered under guild agreements. If you are hired to write on one of these shows, you must already be a WGA member or must become one if you were not previously (because you were a writer's assistant, or what have you). In short, TV as we know it is shutting down.