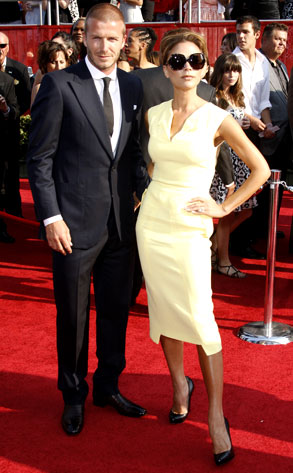 AP Photo/Matt Sayles
The ESPYs have something to do with sports, which isn't exactly our strong suit here. But look, pretty dresses! Now there's something we're into. We've rounded up some of the fashionable famous faces we recognized in the sea of athletes on last night's red carpet.
Oh, Posh and Becks, you've really out-fabulous-ed yourselves this time. We don't mean to offend the antiPosh out there, but Victoria is perfectly channeling Audrey Hepburn's Breakfast at Tiffany's days in this pale yellow Roland Mouret number. And yes, she had to keep the sunglasses on, they make the look.
And they weren't the only ones looking fab in the name of sports...