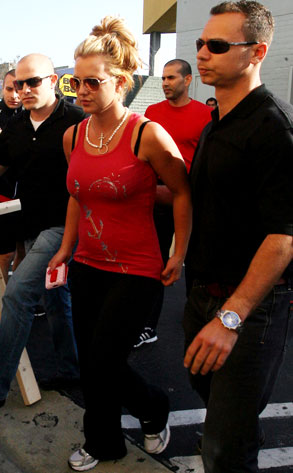 Fame Pictures, Inc.
Time is on Britney Spears' side. More specifically, time for visitation.
Following a morning court session attended by both Spears and ex-husband Kevin Federline, the couple came to a decision to modify the terms of their custody agreement for sons Sean Preston, 2, and Jayden James, 1.
Federline attorney Mark Vincent Kaplan announced that Spears will be allowed to spend more time with the boys during her visits. However, Federline retains primary physical custody and no sleepovers will be allowed, at least for now. (View the minute order.)
"We are so pleased with Britney's progress and we are very appreciative of the court's recognition of this progress," parents Jamie and Lynne Spears, both of whom were in court supporting their daughter, said in a statement read by court spokesman Allan Parachini.
Flanked by her parents, Spears left without addressing reporters.
Speaking for Federline, publicist Elliot Mintz told E! News the would-be rapper was "extremely pleased with how things went today."
Kaplan concurred, calling the modified order a "cautious step going forward...a step in the right direction."
"We are pleased with the progress that seems to be occurring," he said, "and cautiously are going down that track."