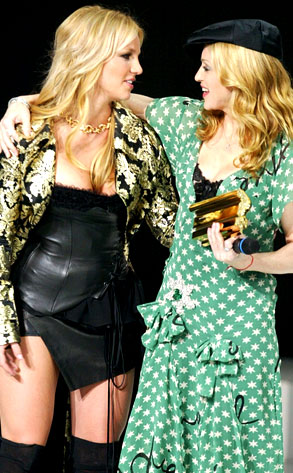 AP Photo/Bruno Bebert, file
Here's the scoop, bitch.
Cameras started to roll today on the video that Britney Spears is making for Madonna's upcoming Sticky & Sweet tour, which, sources tell E! News, will be the opening video for each show.
The "Are you ready to rumble?!" video, if you will.
The shoot took place today at the Lot in West Hollywood, the former site of Warner Hollywood, United Artists and the Samuel Goldwyn Studios.
An on-set source said that Britney arrived at around 9 a.m. and was holed up in her dressing room by 9:30. The "Toxic" singer didn't start shooting her scenes until noon and was still on the set a few hours later.
According to our insiders, the planned "short movie" will take place inside an elevator, where seven cameras will be strategically placed to capture the magic. The scene-by-scene breakdown goes like this: