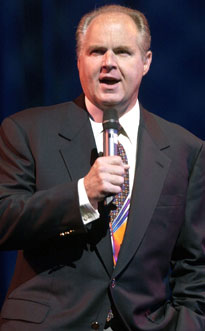 Kevin Mazur/WireImage.com
For those of you who can't envision an election season without Rush Limbaugh's fair and balanced political perspective, fear not.
On the eve of The Rush Limbaugh Show's 20th anniversary, the conservative talk-radio host has signed an estimated $400 million deal with Clear Channel Communications that will keep him on the air through 2016, the New York Times reported Wednesday.
According to Limbaugh, that hefty sum includes a $100 million signing bonus. His existing $225 million, nine-year contract was due to expire in 2009.