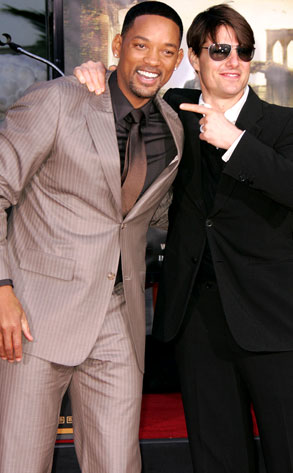 Lisa O'Connor/ZUMAPress.com
They say the pen is mightier than the sword.
And in Hollywood, sometimes a Sharpie can be more important than the box office—at least when it comes to Will Smith and his pal Tom Cruise.
The Hancock star tells USA Today about the friendly stars' long-standing rivalry about who spends the most time signing his, well, John Hancock.
"It's hard to beat that dude," says Smith. "He has another gear. He did 2½ hours in France for Mission: Impossible on the red carpet. Now when I go to France, people will say, 'You know, Tom was out here for 2½ hours.' "
Despite such competitiveness between the Tinseltown titans, Smith is still protective of his friend...