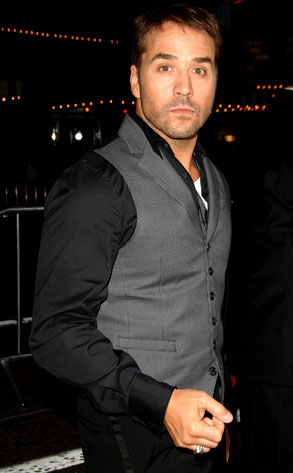 Scott Kirkland/INFphoto.com
He may play a power broker on TV, but Jeremy Piven behaved more like high-maintenance talent during a recent outing at a Hollywood hot spot.
The philandering star arrived at Green Door last Tuesday around 9 p.m. and greeted two young blondes for some cocktails and live jazz. But instead of seeing double the fun, the actor wound up seeing red.
Several partygoers were celebrating birthdays in the venue—heavily trafficked the past few weeks due to impromptu Prince performances—and took some photos to commemorate the occasion.
But Piven apparently wasn't a fan of the flashing bulbs.
The Entourage star ratted out the snap-happy clubbers, alerting club security that personal pictures were being taken in violation of the Green Door's no-photo policy. He asked the guard to shut down the impromptu photo session immediately.
"He's pissed," an onlooker said of Piven's tattling. "But it's not like anyone wanted pictures of him."
The snaps seemed to have spoiled his game—the Pivs parted ways with the blondes around 11:30 p.m. and took up with a tall brunette until closing time.