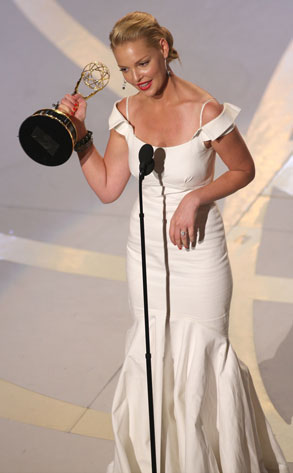 John Shearer/WireImage.com
Katherine Heigl has pulled an Isaiah Washington. (Wait, it's not what you think!)
Just as her former costar did last spring, albeit for a different reason, the Grey's Anatomy actress has taken herself out of the running for the upcoming 60th Annual Emmy Awards.
No, last year's winner for Outstanding Supporting Actress in a Drama isn't still ticked off that the announcer mispronounced her name as she took the stage to present. ("By the way, it's Heigl," she corrected later during her acceptance speech, emphasizing the hard g.)
Instead, Heigl feels that Izzie, who ultimately shared a kiss with Justin Chambers' Alex when all was said and done, wasn't given much Emmy-worthy emoting to do this season.