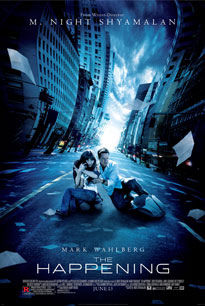 20th Century Fox
From the ingenious mind of acclaimed filmmaker M. Night Shyamalan, creator of Signs, The Village and this weekend's The Happening, comes a new journey through the portal of unspecific fear with this autumn's The Occurrence.
And nothing you've ever seen can prepare you for M. Night Shyamalan's latest descent into madness with the vaguely titled thrill ride of this fall's The Transpiring.
Coming to theaters this Christmas, terror has a new name when the master of the indeterminate, M. Night Shyamalan, debuts his latest uncertain tale, The Incidental Event.
Award-winning writer and director M. Night Shyamalan plunges into new realms of imprecise fear with 2009's The Thing That Definitely Happened.
And just when you thought it was safe to go back to the theater, legendary fright-merchant M. Night Shyamalan returns next spring with his most bone-chillingly indefinite film ever, Some Stuff That Takes Place.
And if you aren't sort of sitting on the edge of your seat by the time M. Night Shyamalans's most obscurely titled movie yet reaches its hazy climax, you'd better check your pulse! Nothing is identifiable when People and Things Move Around in Different Places and Say Words to Each Other!
Look for it. Somewhere.