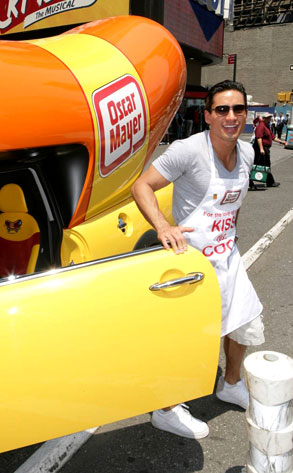 Oscar Mayer
Real men aren't afraid to ride in the Mini Oscar Mayer Wienermobile.
Newly single Mario Lopez, sporting a "Kiss the Cook" apron, hopped out of a smaller version of the iconic frankfurter-topped vehicle Tuesday before he got to work manning the grill at a fundraiser and all-beef extravaganza in Times Square to help mark Oscar Mayer's 125th anniversary.
Up to his elbows in hot dogs, Lopez helped promote the meat-product purveyor's Grade-A cause, the nationwide food bank network America's Second Harvest, which also received a $100,000 donation from Oscar Mayer before today's event.