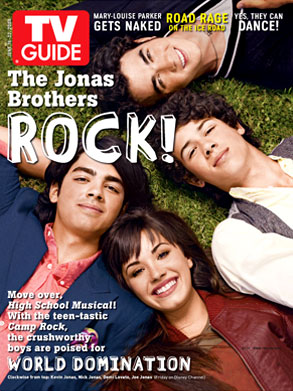 TV Guide
Squealing is about to be taken to a whole new level.
The frenzy that perpetually surrounds the Jonas Brothers will reach a fever pitch this summer, thanks to Joe, Nick and Kevin starring in the Disney Channel movie Camp Rock, premiering June 20, as well as the release of their third album, A Little Bit Longer, on August 12.
"Girls chase our cars after shows as it is!" Nick tells TV Guide in its June 16 issue regarding the expected rise in preteen adulation.
Let's just hope they don't thrash their cars out of envy when they see the brothers' Camp Rock costar, Demi Lovato, not only gracing the magazine's cover with the boys but touching Joe's shoulder!
Let the squealing begin!