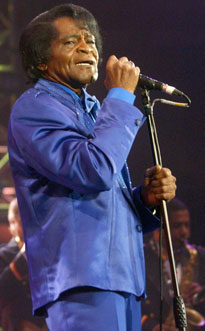 Anthony Harvey/WireImage.com
New DNA tests prove that the Godfather of Soul lives on in a 6-year-old boy.
Results confirm that James Brown was the biological father of James Brown II, according to Peter Shahid, the boy's attorney. The boy's mother, Tomi Rae Hynie, sang backup for Brown and claimed to be the soul legend's wife when he died Dec. 25, 2006. Neither Hynie nor her son was mentioned in his will, and the positive paternity test is a first step in staking a claim to the singer's estate.
While he was alive, the Hardest Working Man in Show Business lived up to his moniker on- and offstage. Brown was married four times and fathered six seven children that have been confirmed and at least three others who claim they were the product of extramarital affiars.